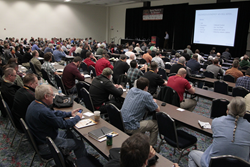 Greenville, NC (PRWEB) September 30, 2014
LBA University, Inc. (LBAU), the safety training unit of LBA Group, Inc. (LBA), announced that the National Association of Tower Erectors (NATE) selected LBAU as its official Radio Frequency (RF) Safety Awareness training provider at NATE Unite 2015. The event will take place February 23-26, 2015 in Orlando, FL.
NATE Unite is recognized as the premier conference and exposition of the year for the tower erection, and service and maintenance industry. The event provides opportunities for education, marketing, networking, and the development of cohesion among NATE members. The RF Safety Awareness training offered by LBAU will be part of the education breakout sessions at the 2015 event.
The RF Safety Awareness training presented by LBAU at NATE Unite 2015 will touch on a number of issues related to RF safety around various environments, including communications towers, roof-top antennas, fixed and mobile antennas, and equipment that is sometimes overlooked as RF producers. Attendees will also learn about FCC guidelines, OSHA regulations, industry standards and parameters established by various agencies as it relates to RF Safety.
The two training sessions that will be conducted by LBAU at NATE Unite 2015 are being custom tailored from LBAU's online and on-site offerings. For more information about RF Safety Awareness training and the other safety training options offered by LBAU, contact Stacey Moore at: 252-757-0279, stacey.moore(at)lbagroup(dot)com.
About LBA Group, Inc.
LBA University, Inc. is recognized as a leading training resource in the radio frequency arena. LBAU has trained thousands of students in RF awareness and other RF safety topics. In conjunction with sister company Lawrence Behr Associates, Inc., it also supports communications and industrial RF safety audits, safety plan development, and certifications. Both are units of LBA Group, Inc. which has over 50 years of experience in providing technology and risk management for industrial and telecommunications infrastructure assets. LBA Group is a multiple INC5000 awardee, and a minority-owned small business that has been honored with Top50 diversity status in North Carolina. The companies are based in Greenville, N.C., USA.
About NATE
The National Association of Tower Erectors is a non-profit trade association that provides members with uniform safety standards, improved communications, and a unified voice for tower erection, service and maintenance companies. For twenty years, NATE has been recognized as the industry leader in promoting safety, standards, education and uniform practices and procedures.