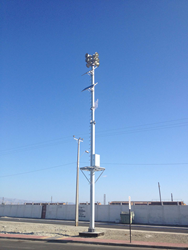 Boston, MA (PRWEB) September 30, 2014
Acoustic Technology, Inc. (ATI Systems), the world leader in Mass Notification Systems and intelligible voice systems, has provided a system to the National Emergency Office (Oficina Nacional de Emergencia, ONEMI) of Antofagasta, Chile, to warn residents of tsunamis, earthquakes, floods, and other natural disasters. The Antofagasta region is one of Chile's 15 first-order administrative divisions. Bordered to the north by Tarapacá and to the south by Atacama, it is the second-largest region of Chile, with over 530,000 residents.
Chile has a history of earthquakes, with one of the strongest occurring on February 27, 2010. It had a magnitude of 8.8 on the moment magnitude scale, and ranks as the sixth-largest earthquake ever to be recorded by a seismograph. The earthquake triggered a tsunami that devastated several coastal towns in south-central Chile and damaged the Port of Talcahuano. Over 500 people lost their lives, and about 9% of the population in the affected regions lost their homes.
Following that event, the Government of Chile decided to begin the installation of Early Warning Systems in different regions of the country. The Regional Government of Antofagasta (GORE Antofagasta) chose ATI Systems to provide their regional Early Warning System. The system is operated by ONEMI to warn the population of an earthquake or tsunami.
ATI Systems was chosen for this project because of its experience and capability in acoustic modeling and multiple communication systems. The Antofagasta region already had seven (7) existing sirens from another manufacturer that the government wanted to include in the new system. ATI's acoustic modeling study led to the addition of 34 new 3200 Watt High Powered Speaker Stations (HPSS32). The old and new speakers function as one system and adequately cover the entire emergency zone.
The electronic sirens (HPSS32) are solar powered with battery backup and will function during a power outage. The system uses VHF radio communication.
All 41 sirens, both new and old, were separated into four different zones. The sirens are continuously monitored and controlled from the Antofagasta City ONEMI office using an ATI Systems Control Station running MassAlert® software. Using this GUI map-based software, government officials can activate the sirens for only one zone, if they choose. Activations also can be done for an individual siren or for all sirens, and can include tones, pre-recorded messages, and live public address.
About ATI Systems
ATI Systems designs, manufactures, and installs dependable emergency warning and notification systems. ATI's advanced technology is currently protecting military bases, industrial facilities, campuses, and communities worldwide, with innovative and flexible wireless systems that reliably provide audible and visual warning messages. The systems utilize a compact hardware design, user-friendly software, and the latest advances in communication methods, including radio frequency, IP Ethernet, and satellite technology. Through product design enhanced by years of experience in acoustic modeling, ATI Systems' products provide exceptional sound coverage and voice intelligibility in both outdoor and indoor settings. The company's systems can be found throughout North America, Europe, the Middle East, and Asia. To learn more about ATI Systems, visit http://atisystem.com.