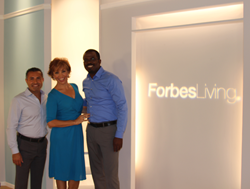 Sirena is the culmination of modern design and engineering, built on years of experience
Ottawa, Ontario (PRWEB) October 01, 2014
Forbes Living is an innovative new show featuring trendsetting, must have products.
"Forbes Living viewers are savvy consumers and trendsetters who want to be the first to know about what's new and hot," said Ms. Riley. "Our show is the ultimate guide to tomorrow's must-have products and solutions. From beauty to fitness, interior design to runway fashion and much more, if it's about to explode, you'll find it on Forbes Living."
Sirena Inc. will be featured on the Forbes Living segment starting with Discovery Channel on September 30th. Check out the latest Forbes Living press release about the show here.
"It was an incredible experience to meet Forbes and produce this segment" explained Sirena Inc. President TK Khayrallah, "the energy and excitement around this show is unparalleled".
Sirena Inc. will have a variety of spots on the major networks this fall to coincide with their 1 year anniversary of distributing the Sirena water filtration vacuum.
About Sirena
Sirena is a vacuum which features water filtration; this eliminates bags, provides a healthier environment and cleans much more effectively than traditional vacuums. Water filtration vacuums are viewed as much healthier for those who suffer breathing disorders such as asthma and allergies, superior for cleaning by pet owners and environmentally friendly since water is readily available and free.
To learn more about the Sirena system visit their website at http://www.SirenaSystem.ca
Sirena is distributed by select dealers online, in retail stores and through a variety of other sales channels. Find a dealer near you viewing our dealer locator here.