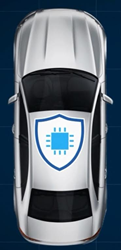 Connectivity is king these days and that puts the auto industry at a crossroads. Our goal is to provide the software today that will stop cyber threats now and in the future.
PARIS, France (PRWEB) October 01, 2014
Vehicles today have more connectivity than personal computers. That opens the door to hackers and cyber attacks that compromise automotive safety and security and put lives and personal data at risk.
ECUSHIELD, an embedded software product from TowerSec, detects cyber threats and prevent attacks in real-time. It will be publicly unveiled on SEGULA Technologies' life-size, three-seat concept car during media days at the Paris Motor Show October 2-3.
TowerSec has spent years listening to the "voice of the customer" and has responded with immediately available, cost effective security product. As a result of its proven value proposition, TowerSec gains strong credibility and intimate relationships with key OEMs and Tier 1 and Tier 2 suppliers.
"Connectivity is king these days and that puts the auto industry at a crossroads," said Saar Dickman, CEO of Tower Sec. "Manufacturers must deal with the cyber threat to ensure the safety and security of its customers while keeping vehicles connected. The threat will be even stronger when self-driving or autonomous cars become available in the near future. Our goal is to provide the software today that will stop cyber threats now and in the future. That software is ECUSHIELD."
By taking advantage of weaknesses in the in-vehicle networks (e.g. CAN-BUS) or exploiting wireless communication vulnerabilities, hackers and intruders can manipulate ECUs and other on-board computerized modules. These intrusions can take over or hamper critical systems such as the engine, brakes and even steering all of which compromise the vehicle's safety and security.
ECUSHIELD solves that problem. Once integrated into a CAN-BUS accessible ECU, telematics controller or infotainment unit, ECUSHIELD provides continuous monitoring while identifying new threats to the vehicle. It prevents malicious communication intrusions from reaching mission critical systems inside the vehicle that could put lives and personal data at risk.
With ECUSHIELD no redesign is needed. It is flexible and can be easily and cost effectively installed in new and used vehicles, including fleets. It turns any ECU into an Intrusion Detection and Prevention (IDS/IPS) system and any gateway ECU into a smart firewall.
ECUSHIELD highlights include:

Easy installation on any on-board ECU, a telematics controller or infotainment system
Single installation protects the entire vehicle
Double perimeter security for both internal and external communication channels
Easily embeddable into any platform and operating system
No redesign required.
Built-in security updates
"TowerSec is proud to be part of SEGULA Technologies' innovative approach for vehicles connectivity," Dickman said. "As far as we know this is the first time an automotive cyber security company has shown pure standalone detection-prevention software security product on a concept car."
ECUSHIELD can be seen at the SEGULA Technologies stand at 216 (Hall 3, Aisle B).
About TowerSec
TowerSec, an automotive cyber security company, delivers on-board cyber security technology to OEMs, suppliers and the aftermarket. Founded in 2012 by team of highly trained Israeli cyber security experts backed with decades of automotive manufacturing experience, TowerSec combines its unique knowledge to deliver its on-board solutions globally. With offices in Ann Arbor, Michigan, (US), Berlin, Germany, and an R&D center in Israel, TowerSec maintains a close relationship with its clients and partners.
For more information please visit http://www.tower-sec.com
About SEGULA Technologies
SEGULA Technologies is an international engineering and consultancy firm in advanced innovation. The Group offers its customers technical expertise and excellence of its employees specific to each business sector: automotive and industrial vehicles, aerospace and defense, rail, energy, naval, industries….Present in 22 countries, SEGULA Technologies employs 6800 people and achieved a turnover of 400 million Euros in 2013. For more information: http://www.segula.fr or http://www.segulatechnologies.com.
Contact:
TowerSec communications: Phone:+1-734 333-7000, info(at)tower-sec(dot)com