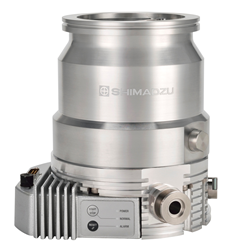 Shimadzu Corporation's new robust 'hybrid-bearing' TMP-B300 TMP for vacuum industries and analytic scientific applications.
Kyoto (PRWEB UK) 2 October 2014
The TMP-B300 is only 195 mm high, has an on-board controller, multi-directional mounting capability, operates at low power, and high back pressure resistance of 1000 Pa. The TMP-B300 will find applications in analytical research environments where clean and ultra-high vacuum is required such as mass spectrometer and scanning electron microscopes.
Turbo molecular pumps (TMP) produce a vacuum due to the high speed rotation of turbines that enables vacuum pumping at the molecular flow level. Traditionally, TMP have been essential components for the manufacture of semiconductors and flat panel displays where oil free, clean, high vacuums are essential.
Importantly, the TMP-B300 series was developed for vacuum industry and analytical scientific applications, where ultra-high vacuums are required, and TMP performance must satisfy stringent requirements of analytical scientific research where limited space, low power consumption, flexible mounting capability, and robustness, are key requirements.
Background
Shimadzu Corporation is one of the world's leading manufacturers of magnetic-levitated turbo molecular pumps (TMP) with Shimadzu TMPs being widely adopted for the manufacturing equipment of semiconductor devices and flat panel displays.
Notably, the new, innovative TMP-B300 series of turbo molecular pump were developed for the US$ 150 million market of small-size TMPs for analytical scientific applications and general purpose equipment, and constitute an expansion in business area for Shimadzu Corporation.
Main features of the TMP-B300
1. Mount in any preferred direction (vertical, horizontal, inverted) to enabling installation in space constrained environments
2. High compression ratio for hydrogen (1x105) for UHV operation with a smaller dry vacuum pump, such as a diaphragm pump
3. Continuous operation at maximum backing pressure of 1000 Pa
4. Integrated control panel for ease of use
5. Low power consumption of 180 W
6. Compact size measuring only 195 mm high
Further information
Specifications
Product name:
Turbo molecular pump TMP-B300
Technical data
Cooling method : convection forced air
Inlet flange : ICF152 (DN100CF) /VG100 /ISO 100K
Outlet port KF16
Pumping speed (VG100 flange)
N2 : 280 L/s
About Shimadzu Corporation
Founded in 1875, Shimadzu Corporation, a leader in the development of advanced technologies, has a distinguished history of innovation built on the foundation of contributing to society through science and technology. Shimadzu maintains a global network of sales, service, technical support and applications centers on six continents, and has established long-term relationships with a host of highly trained distributors located in over 100 countries.
Enquiries
pr-im(at)shimadzu-ad(dot)jp
Industrial Machinery Division, Business Planning Department, Shimadzu Corporation
1, Nishinokyo Kuwabara-cho, Nakagyo-ku, Kyoto 604-8511, Japan
Maximum compression ratio for H2 : 1x105
Allowable backing pressure for continuous operation with ultimate inlet pressure with forced air cooling 1000 Pa (Ambient temperature: 25ºC)
Integrated controller (frequency converter) : DC24V, 180W