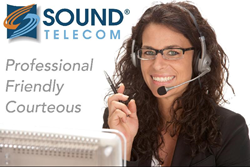 Any organization that is required to safeguard information is putting themselves at risk if they are not using truly secure messaging platforms.
Seattle, WA (PRWEB) September 30, 2014
On the heels of the release of their successful article, Sound Telecom has added a section to the Answering Services portion of their website that includes everything visitors need to know about Secure Messaging. The article they released last month, (Three Things You Need to Know about HIPAA-compliant Secure Text Messaging), spurred lots of interest not only throughout the call center industry, but within the healthcare field as well. Therefore, Sound Telecom determined it was an important enough topic to give it a permanent and prominent position on their website.
The use of text messaging in professional settings is on the rise, but SMS text messages are not an intrinsically secure form of communication. Any organization that is required to safeguard information, like those in the medical industry that must abide by HIPAA and HITECH, is putting themselves at risk if they are not using truly secure messaging platforms. Protection of information and keeping compliant with federal regulations are two of the biggest reasons businesses are looking into Secure Messaging.
Due to the fact that Sound Telecom provides medical answering services for hundreds of healthcare professionals, they felt the need to develop secure messaging solutions for their customers. So, they have been working with the leaders in the Secure Messaging arena to be able to customize plans for customers that cover answering services and the secure communication of information. The Secure Messaging solutions are not just limited to the relay of messages from the answering service to the organization, but also allows companies to communicate securely throughout their own ranks.
Sound Telecom has a history of finding new ways to help their customers and this new piece of their website is the latest proof of that. The company feels very strongly that Secure Messaging is going to become a big deal in the near future and they are doing everything they can to help their customers be prepared and stay ahead of regulations and the competition. They have compiled important statistics, an outline of how Secure Messaging works, and the features and benefits of such solutions on their website. Anyone interested in Secure Messaging is encouraged to read more about it and contact Sound Telecom in the event they have questions or would like to discuss the subject.
The new webpage can be viewed here: http://www.sound-tele.com/answering-services/secure-messaging/
About Sound Telecom
Since 1986, Sound Telecom is a leading provider of 24 hour Telephone Answering Services, Call Center Solutions and Cloud-based Business Communication Systems, professionally serving thousands of customers throughout the United States and Canada with USA based agents to help them improve customer service and grow their businesses. For more information, please visit us online at http://www.sound-tele.com/.
Contact Information
Sound Telecom
Andrew Tillery, Marketing Director
800-577-1550
http://www.sound-tele.com