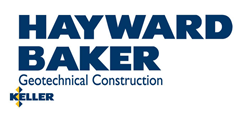 Hanover, Maryland (PRWEB) September 30, 2014
Hayward Baker Inc., North America's leader in geotechnical construction, is the recipient of the 2014 Rick Marshall Commitment to Excellence in Safety Award from the International Association of Foundation Drilling (ADSC).
This marks the second consecutive year that Hayward Baker has received this prestigious award.
The award, which is presented to the company that "demonstrates a comprehensive and consistent safety program, beginning at the highest administrative level and filtering down throughout the entire company culture," is named in honor of the ADSC's Safety Committee Chairman, Rick Marshall, who proposed the award and has dedicated his career to improving safety in the industry.
Being chosen for the ADSC award for a second consecutive year aligns well with Hayward Baker's safety motto, ThinkSafe. This motto represents the company's commitment to creating a culture and adopting practices that value health and safety.
ThinkSafe is grounded on the principle that the effective management of health and safety is essential to long-term success, profitability, and sustainability. Hayward Baker's Experience Modification Rate (EMR) is currently well below the industry standard of 1.00.
Bryan Schertz, Keller North America and Hayward Baker Safety Director, stated, "Hayward Baker and Keller North America are more than simply committed to safety; safety is a fundamental part of our culture. Maturity within our safety culture has moved us beyond simple compliance and towards a culture of commitment. Our ultimate goal is to have zero incidents through the effective management of safety in all our operations."
In addition to the Rick Marshall Commitment to Excellence in Safety award, McKinney Drilling, Seaboard Foundations, Case Atlantic and Keller Canada – all part of the Keller Group of companies – each received an Outstanding Safety Achievement award.
To learn more about Hayward Baker's safety commitment as well as the ground improvement capabilities and services the company provides, contact James D. Hussin, Director, at 813-884-3441 or jdhussin(at)haywardbaker(dot)com.
About Hayward Baker Inc.
Hayward Baker [http://www.haywardbaker.com is North America's leader in geotechnical construction, annually ranked by Engineering News-Record (ENR) magazine #1 in the profession. With a 60-year record of experience, Hayward Baker offers geotechnical construction technologies through a network of more than 20 company-owned offices and equipment yards across the continent. Project applications include foundation support, settlement control, site improvement, slope stabilization, underpinning, excavation shoring, earth retention, seismic/liquefaction mitigation, ground water control, and environmental remediation.
Hayward Baker Inc. is part of the Keller Group of companies, a multinational organization providing geotechnical construction services throughout the world. Web site address: http://www.keller.co.uk.