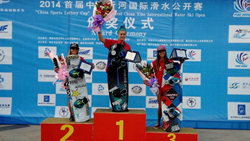 Winning in China is such a great way to end the season.
South Jordan, Utah (PRWEB) September 30, 2014
mynt™ team rider Raimi Merritt claimed her 10th Wakeboard World Cup victory in Linyi, China, last weekend. The 21-year-old native Floridian has dominated the International Waterski & Wakeboard Federation's (IWWF) Wakeboard World Cup series for over six years, winning more World Cup tournaments than any other female rider in the event's history. The World Cup in China ran September 20–21, 2014.
Injuries had kept Merritt sidelined for much of the 2014 pro wakeboarding season, but she received her doctors' clearance to compete again shortly before the World Cup in China. With very little practice and time on the water, Merritt missed the cut in her semi-final heat. In the last-chance qualifying round, however, she managed to secure a spot in the finals. Riding in the worst seed position, she went off the dock and threw down an incredible run in extremely rough conditions, posting a score of 73.22. While other riders in the women's division rode well, they couldn't match the intensity of Merritt's performance. Amber Wing (Australia) took the silver medal and Bec Gange (Australia) took bronze.
"I am so stoked about the way things turned out," said Merritt. "I've been feeling good ever since I got to China, but it's been a long road. This year was bittersweet for me. I have been recovering from injuries, but to be able to ride against the best women in the world was amazing. All of the women have stepped up their game, so falling was not an option. On the dock in finals, I knew I needed to ride my best. Once all the women had ridden and I saw the final scores, I was so excited that I had won. Winning in China is such a great way to end the season."
About Raimi Merrit
Merritt grew up in Lantana, Florida, and began competing when she was 11. For more information about Raimi, visit http://www.raimimerritt.com. Fans can also connect with her at facebook.com/MerrittRaimi, twitter.com/MerrittRaimi, and instagram.com@MerrittRaimi.
About mynt
mynt™ is a new way of doing business in the direct selling industry with its headquarters in South Jordan, Utah. Backed by MonaVie, the mynt products and opportunity pre-launched in North America April 19, 2014; the full launch is being planned at event in Las Vegas, Nevada, USA, January 8–10, 2015. Learn more at http://www.movemynt.com.