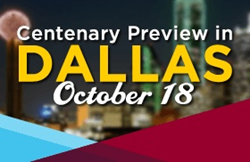 I...have seen how Centenary continuously sets itself apart from other colleges.
Shreveport, LA (PRWEB) September 30, 2014
Centenary College of Louisiana's Office of Admission will host a Centenary Preview program in Dallas for prospective students on Saturday, October 18, from 10 a.m. to 12 p.m. at the Hilton Park Cities Hotel, located at 5954 Luther Lane, Dallas, Texas 75225. The event is free and open to the public.
"The Dallas-Fort Worth area is home to many bright and motivated students who are well-prepared to excel at Centenary," said Tommy Newton, Director of Admission. "Our students are encouraged to challenge the status quo both inside and outside the classroom, giving them the skills and confidence they need to do more in their careers, communities, and across the globe."
Located in Shreveport, LA, Centenary College is a U.S. News & World Report Tier One National Liberal Arts College, a member of the Princeton Review's "Best 379 Colleges," and was recently named a "Top 100" Southern college by Forbes.
"When I first started the college search, I knew I wanted somewhere far enough away from home so that I could independently establish myself in a new city, but close enough so that I could return easily," said Laura Deen, current Centenary senior and Highland Park High School Class of 2011 graduate. "I also wanted to find study abroad programs where I could grow not only as a student but also as a citizen of the world. I was lucky to find a school that had all of these wonderful qualities, and have seen how Centenary continuously sets itself apart from other colleges."
Centenary faculty, administrators, current students, and athletic staff will be on hand at the Preview to answer questions from prospective students and families. Participants will also enjoy an overview of the Centenary in Paris immersive experience by faculty who took part in the inaugural program in August 2014. This successful program will once again be available for all incoming first-year students in fall 2015. Admission staff will offer guidance about the admission process and financial aid opportunities during specific information sessions.
High school or transfer students interested in attending can R.S.V.P. online at http://www.centenary.edu/admission. Students who bring transcripts, standardized test scores, a recommendation letter, and who meet the qualifications for admission, may be admitted to Centenary on the day of the Preview event. For more information, contact Vjosa Alidema, Associate Director for Admission, at 718.594.4004 or validema(at)centenary(dot)edu.
###
About Centenary College of Louisiana
Centenary College of Louisiana is a selective, residential, national liberal arts college affiliated with the United Methodist Church. Founded in 1825, it is the oldest chartered liberal arts college west of the Mississippi River and is a member of the Associated Colleges of the South.