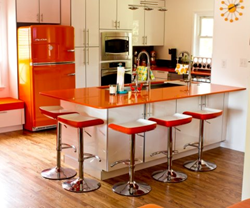 BOULDER, CO (PRWEB) October 14, 2014
Leaves are changing, and the warm, rich hues of the fall – the reds, yellows and oranges – are here. Bring the feeling of fall into a home with a total kitchen makeover or just one stand-out appliance. Big Chill's mix of retro refrigerators, pro-style ranges, dishwashers, hoods and smaller appliances like microwaves, has just the right color and style to create that warm, unique look.
"At Big Chill, we don't shy away from color," said Orion Creamer, co-founder and president, Big Chill. "We appreciate that our customers want their appliances to stand out. If you love fall or just the colors of the season, there is no reason you shouldn't be able to celebrate it all year long in your home with a stylish and colorful appliance."
From a red refrigerator to a Buttercup Yellow range, the ability to customize a kitchen for autumn is a definite possibility. Create a vintage kitchen by selecting products from the company's complete retro appliance line with modern amenities or opt for a more modern look with a fridge or range from the newly-introduced Pro line.
If you love fall colors but aren't quite ready to commit to a large focal point, Big Chill can still help bring the colors of the season home. Opt for a bold, bright orange hood, a sweet 1950s-television inspired microwave in Sunflower Yellow or an undercounter fridge in any of the fall colors for an at-home bar, "man cave" or recreation room.
In addition to the beautiful colors of fall, Big Chill appliances can be colored to match any season or home décor for that matter. Choose from more than 200 colors - or select a custom-color to get a look that you will love no matter what the weather.
To purchase a Big Chill appliance online, click bigchill.com/buy-online/. For general information visit http://www.bigchill.com.
###
About Big Chill
Big Chill was founded by Orion Creamer and his uncle Thom Vernon in 2001 and made a splash with its brightly colored, retro-styled fridges with modern amenities. Since then the Boulder, Colorado-based company has expanded its product offering to include refrigerators, fridges, dishwashers, microwaves, stoves, hoods and wall ovens, available in more than 200 colors, as well as custom colors. In addition to retro, mid-century-styled appliances, Big Chill also manufactures contemporary-styled Pro appliances that blend modern design, bold colors and serious performance. Big Chill appliances can be purchased directly online. Visit http://www.bigchill.com to learn more.