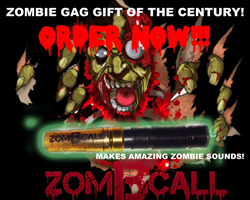 Dallas, TX (PRWEB) September 30, 2014
The launch of "Zombie Fever" across the globe is imminent according to the creators of ZomBcall, a new zombie sound novelty noisemaker just launched on the crowd funding website, Kickstarter.com. The ZomBcall device resembles a wild animal game call, however rather than producing animal sounds it allows the user to vocalize in the style of the undead zombies popularized in movies like "Day of the Dead", "Shaun of the Dead", World War Z" and in TV shows like "The Walking Dead". By manipulating the "snorkel" of the device and adjust breath and hum a large variety of authentic sounding zombie sounds can be made with the device ranging from screeches, squeals and screams to growls, moans and groans.
"ZomBcall is preparing to spread Zombie Fever across the globe to trigger a zombie marketing apocalypse. This is Halloween season and the optimum time to launch a product like ZomBcall. Backers on Kickstarter will receive their ZomBcalls in time for holiday gift giving, so backers should feel confident in selecting the best gift for zombie fans this holiday season. Supplies are limited so it is important to back ZomBcall as soon as possible," says Christopher Oliver, co-inventor of the ZomBcall zombie sound maker toy.
ZomBcall is a zombie sound and scare device marketed as the ultimate gift for rabid zombie fans. By making a wide range of authentic TV and movie style zombie sounds ranging from groans, grunts, and moans to screeches, squeals and screams ZomBcall provides zombie enthusiasts endless possibilities for zombie fun. ZomBcall is now available on Kickstarter.com for crowd funding through October 30, 2014. For more information about the ZomBcall zombie sound toy visit their ZomBcall kickstarter page.