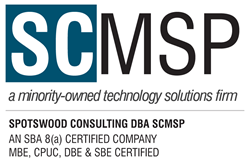 With the award of the 8(a) certification we are the teaming partner that can close large engagements
Irvine, California (PRWEB) September 30, 2014
Spotswood Consulting, dba SCMSP, dba SC Wireless announces today the expansion of their federal practice spearheaded by a new office located in the District of Columbia. Spotswood Consulting has extensive experience in successful private sector multiple partner IT engagements and is in a great position to be extremely valuable to many government agencies and purchasing departments. Spotswood Consulting's process insures that every engagement is vetted for success and budget before work begins forestalling delays and problems.
Said Derek Spotswood, President and Founder; "with the award of the 8(a) and our full suite of diversity certifications we are able to be the teaming partner many companies need to close on large enterprise engagements. We are unique in our ability to scale depending on the needs of our partner and have a proven track record of success. Our new office in DC is the next logical step in our federal practice expansion."
Those wanting more information about Spotswood Consulting's Federal practice can contact:
Derek Spotswood 800-716-2360
Spotswood Consulting dba SCMSP, dba SC Wireless
601 Pennsylvania Ave. NW, South Building, Suite 900,
Washington, District Of Columbia, 20004
The mission of SCMSP is to become a "Force Multiplier" for our customers and Teaming Partners in the private and public sectors by delivering comprehensive services and turnkey solutions required to design, build, optimize and maintain information technology and telecommunications networks.
As an SBA 8(a) Certified company, and MBE, DBE and CPUC certified firm (link to the page) SCMSP can partner with your supplier diversity team to deliver business and technology solutions. SCMSP can provide added value to your organization through your diversity supplier program with our innovative business and technology solutions nationally and globally.
For More Information on the subject of this release or how to partner with SCMSP on Technology implementations, contact:
Nancy Clauss
SCMSP Marketing Director
Nancy(at)scmsp(dot)com
714-225-9981