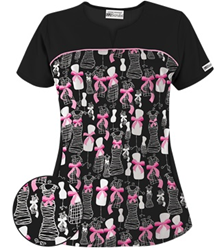 Plantation, FL (PRWEB) October 02, 2014
Breast cancer is one of the more popular cancers that gets a lot of exposure and funding but until this disease is eradicated permanently, every dollar counts. According to the National Cancer Institute, "every 2 minutes a woman is diagnosed with breast cancer and one woman will die of breast cancer every 13 minutes." When it is found early:

In the localized stage, the five year survival rate is 98%.
Over 2.9 million breast cancer survivors are alive in the US today.
Early detection is key to tackling the disease to see what physical abnormalities may exist if found and then start treating the symptoms as soon as possible. It is important to create a Detection Plan which can be found on earlydetectionplan.org that shows detailed steps in starting to take preventative measure with regards to an individual's health.
Uniform Advantage's Reason for Giving
Being a provider of medical scrubs and nursing uniforms, and an organization that has a large female employee base, breast cancer is close to Uniform Advantage's hearts as it has affected a few members of their staff. This Fall 2014, they partnered with the National Breast Cancer Foundation and donated $1 from the sale of each Pink Spin Black and Pink is Perfect Black scrub prints to help join the war against breast cancer and contributing over $5,000.00.
About the National Breast Cancer Foundation, Inc.®
Recognized as one of the leading breast cancer organizations in the world, the National Breast Cancer Foundation's (NBCF) mission is to help women now by providing help and inspiring hope to those affected by breast cancer through early detection, education and support services. A recipient of Charity Navigator's highest 4-star rating for ten years, NBCF provides women Help for Today…Hope for Tomorrow® through its National Mammography Program, Beyond The Shock®, Early Detection Plan, MyNBCF online support community, and breast cancer research programs. For more information, please visit http://www.nbcf.org.
About Uniform Advantage
Uniform Advantage is a leading retailer of scrubs and medical uniforms. Founded in 1985, the company operates out of Plantation, Florida and ships from their distribution center near Atlanta, Georgia. It has grown to include 29 retail stores located in key cities across the U.S., a catalog division and an entity dedicated to the online market.
For more information and to view their garments, visit the Uniform Advantage web site at http://www.UniformAdvantage.com or call 800-283-8708.