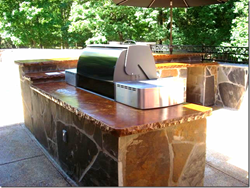 Morris, Illinois (PRWEB) September 30, 2014
Tru Kast is a new concrete countertop mix from Wattools that offers the contractor the perfect choice for either precasting or casting-in-place their upcoming concrete counter top projects. This all new silica based mix is designed to offer an extended time gap between the initial set and final set allowing a contractor ample time to perform a skilled hard trowel finish without compromising a high early strength. This allows a demold time of 24 hrs if needed by the precast fabricator for grinding and polishing applications. This concrete mix is a meticulously graded aggregate mix that ensures even consolidation from top to bottom making it a perfect mix to use with textured countertop edge forms to grab every nuance and detail. With a final strength of nearly 10,000 psi, it also ranks as one of the most durable wear surfaces. Tru Kast works with any number of coloring options such as integral color, acid stains, water base stains, and dyes.
Concrete countertops are one of the best when it comes to kitchen and bathroom countertops, as this is one of the most durable of all building materials. Concrete counter tops are considered a green option since they are locally made, yet for many years concrete was unheard of as a counter top material choice. Finally, it is becoming more and more popular as homeowners realize the many benefits of a concrete counter top - including a lower price than other fabricated counter top types (like granite and marble).
Walttools is a premier manufacturer of Decorative Concrete Supplies whose products have been used in over 30 countries. If your local concrete supplier does not carry the Walttools lines of decorative products ask that they do so you can have the best options for your projects. Their lines include Tru Impressions texture tools, the Tru Tex vertical concrete line, Tru Tint stains, and the ultra-versatile Tru Pac line of specialty ad pacs.