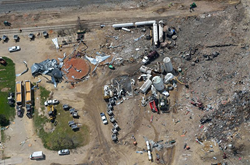 These enhancements to our ammonium nitrate tech brief have helped transform it into a one-stop resource for public safety officials
Laramie, Wyoming (PRWEB) October 01, 2014
The original brief, which was presented and distributed to lawmakers during a hearing for the Texas House of Representatives Homeland Security and Public Safety Committee in August of 2013, has been enhanced with shipped quantity blast effects and widely accepted handling and storage tips for ammonium nitrate. The company is releasing this enhanced brief on the one year anniversary of the release of the popular original ammonium nitrate brief. It is complimentary for fire departments/fire marshals/fire inspectors, LEPC/EMA officials or any other public safety/health professionals that visit the Company's web site at http://www.aristatek.com .
The enhanced brief titled 'Ammonium Nitrate Estimated Blast Effects and Best Handling Practices' includes a blast effects table for ammonium nitrate quantities from one ton to 300 tons as well as expert commentary on how to interpret the blast effects table. This table was prepared using a combination of the Company's industry-leading hazardous materials response software, PEAC-WMD, and its staff of in-house chemists/engineers. The newest updates to the brief include enhancements to the blast effects table to highlight common shipping quantities for the substance via rail or truck. It also includes 'best practices' for safe handling and storage of ammonium nitrate compiled from many articles and guidelines that have been issued by federal and state agencies over the past year.
"These enhancements to our ammonium nitrate tech brief have helped transform it into a one-stop resource for public safety officials," stated Bruce King, CEO of AristaTek. "Now anyone trying to do a full analysis of ammonium nitrate blast effects in their community, whether it be shipped or stored, can do so from this one document along with gaining an understanding of how this substance should be safely stored, handled, etc."
Much attention has been focused on ammonium nitrate since the 2013 explosion at West Fertilizer Company in West, Texas that killed 15 and injured another 160. President Obama signed a Executive Order 13650 – Improving Chemical Facility Safety and Security in August 2013 in direct response to the accident and the subsequent working group placed much focus on updating and improving safety standards for those facilities storing ammonium nitrate. As a result, many public safety officials have a greater awareness and understanding of ammonium nitrates dangers.
"After a year, there is still a lot of concern over this substance," continued King. "We hope this enhanced brief aids those folks still trying to deal with these hazards in their community, especially those that missed the brief the first time around."
About AristaTek
Formed in 1999 by four chemists and engineers who conducted field scale research studies at the Nevada Test Site's Hazmat Spill Center (HSC) mandated by the 1986 Superfund and Reauthorization Act (SARA) and the Clean Air Act Amendments (CAAA) during the 1990's, AristaTek has become a leading provider of CBRNE and HAZMAT response and planning solutions to the civilian and military market. PEAC-WMD™, AristaTek's leading software product, assists in response efforts by consolidating CBRNE & HAZMAT technical reference sources and automating stand-off distance modeling and communication of incident data. PEAC is the industry-standard in the CBRNE & HAZMAT response community, supporting critical CBRNE units such as the National Guard Civil Support Teams (CST), the United States Air Force (USAF) and countless civilian responders worldwide. AristaTek is a certified HUBZone business. For additional information, visit http://www.aristatek.com.