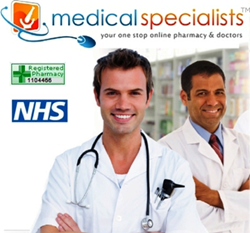 so there is simply no better time to quit smoking than right now!
Bury, Manchester (PRWEB UK) 2 October 2014
Last year's Stoptober was a massive success, with around 250,000 people managing to complete the challenge – and thereby extending their life by up to 1 week in the process. That figure was a huge rise on the 160,000 smokers that managed to abstain from smoking for the entirety of 2012's Stoptober.
Medical Specialists® NHS Pharmacy hope there will be an even bigger number of participants for this year's challenge after seeing their requests for Champix (the popular smoking cessation treatment) simply skyrocket in recent weeks. Patients seeking help from Medical Specialists® can currently benefit from a massive 65% price reduction on Champix – so there is simply no better time to quit smoking than right now.
Moreover, the average smoker is said to go through an estimated 13 cigarettes per day. This means each smoker could save around £141 during Stoptober, have accumulated £423 by staying smoke free until Christmas, and then saved a staggering £1,696 over the course of 12 months (1).
In an effort to get more of the nation's eight million smokers to take part, Stoptober has long been supported by a number of famous faces, charity organisations, sports clubs, and national stop smoking services. Previous years have seen ex-footballer Ian Wright and actress/singer Kelsey-Beth Crossley lend their support to the Stoptober challenge, and this year celebrities such as top British comedians Lee Nelson, Al Murray, Paddy McGuinness and Andi Osho have thrown their weight behind it.
Smoking is far from being a laughing matter though, directly responsible for more than 100,000 deaths each year in the UK alone, and linked to thousands more. Smoking dramatically increases the risk of health problems such as cardiovascular disease, stroke, a whole multitude of cancers, chronic lung diseases, and linked to distressing health problems such as erectile dysfunction, premature aging and wrinkles, thinning hair, yellow fingers and psoriasis.
However, If the thought of going cold turkey for the duration of the 28-day challenge is too daunting, help is at hand for those getting involved. Helping smokers along the way will be a free stop smoking pack containing support tools to get people through the 28 days, a mobile app for iPhone and Android smartphones, and participants can receive regular text message and email support that provides tips and advice to keep people on track to reach their target. There is also a variety of social media activities and supportive advice from celebrities, including jokes and tips to motivate people.
If all that wasn't enough, a nation-wide roadshow is currently running up until the 11 October. The roadshows will feature a number of comedians discussing their own experiences of giving up smoking and how they have helped others to do the same.
Medical Specialists® wish everybody the best of luck who are taking part in the 28-day Stoptober challenge and hope even more people take part than last year. It might seem terrifying the idea of not smoking for that length of time, but the benefits to be had from not ingesting thousands of toxic chemicals will be quickly evident on the inside and out! For a helping hand, why not try the previously mentioned smoking cessation treatment Champix, which can help smokers to quit and even decrease the enjoyment of smoking if people have a cigarette whilst on the treatment.
(1) Based on £7.77 for a packet of cigarettes (Office of National Statistics, May 2013).