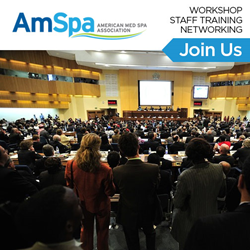 Our focus always has been, and continues to be, educating physicians and med spa owners on the laws and regulations that govern the industry.
Chicago, Illinois (PRWEB) October 01, 2014
The American Med Spa Association (AmSpa) released agendas today for two upcoming medical spa workshops, one in Los Angeles on October 6th and one in Chicago on October 27th. The workshops focus on providing legal and regulatory information from local health care attorneys to ensure that medical spas are compliant with state law.
"We are very excited to continue with our regional regulatory workshops, and the response we've received is overwhelming," said Director Alex Thiersch. "Our focus always has been, and continues to be, educating physicians and med spa owners on the laws and regulations that govern the industry."
AmSpa's agendas reveal a heavy focus on the legal and regulatory aspects of the med spa industry, with over half the program dedicated to state-based laws on med spa ownership, delegation, social media law, and OSHA and HIPAA compliance.
"Unfortunately this industry still has a long way to go as far as becoming compliant with local laws and regulations," said Thiersch. "In California, for instance, the state licensing board has indicated that many medical spas are not formed properly, are engaging in fee splitting, and don't have proper supervision. Our goal is to make sure medical spas across the country know the rules."
In addition to talks on the laws affecting the med spa industry, AmSpa's workshop will also feature speakers from some of the most successful and renown speakers in the industry presenting on topics such as social media, marketing, and increasing revenue through the sale of skin care products. The program will close with a roundtable discussion from successful med spa owners on the secrets to building a profitable med spa.
Another major issue in the med spa industry, is the lack of staff training. Medical spas are different from both traditional spas and from doctor's offices. Since the non-medical staff is the face of the med spa, they need training even more than some of the physicians and medical staff performing the procedures. There will be a concurrent session, for staff. They will be taught how to be knowledgeable about products, sales, marketing and networking. The staff training session is specifically designed to not only instruct staff on how to professionally perform basic administrative tasks like answering the phone, but also teach them the basics of up-selling to help the med spa generate more revenue.
Although not officially on the agenda, AmSpa was quick to point out that all attendees get free admission to the AmSpa after party, a staple at AmSpa's events where industry professionals get to network and exchange ideas with others.
Both events are nearly sold out, according to Gina Shaffer, AmSpa's Director of Marketing.
The California-based workshop is October 6th at the Manhattan Beach Marriott. More information can be found at HERE or at americanmedspa.org.
The Chicago workshop is on October 27th at the Marriott Chicago Downtown Magnificent Mile. More information can be found HERE or at http://www.americanmedspa.org
If you have any additional questions, please call (312) 981-0993