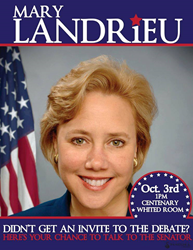 The Senator will be in attendance to talk about issues around student loan debt.
Shreveport, LA (PRWEB) October 01, 2014
The Centenary College Democrats, in conjunction with the "Campaign for Louisiana," will host U.S. Senator Mary Landrieu on the Centenary campus Friday, October 3, from 1 p.m. to 3 p.m. in the Whited Room. Students from the Shreveport/Bossier City area are invited to attend the talk and Q&A session and must RSVP at YoungLeadersForMarySHV(at)gmail(dot)com to reserve a spot.
"The Senator will be in attendance to talk about issues around student loan debt," said Joanna Warren '16, president of the Centenary College Democrats. "Currently, student loan debt is the second largest debt class behind mortgages but has failed to garner much attention in the national spotlight. This event is one of three events in the state that Senator Landrieu will be conducting to try to raise awareness of the issue."
Centenary College's Marjorie Lyons Playhouse will be the host site for a televised U.S. Senate Debate on Tuesday, October 14, at 7 p.m. Senator Mary Landrieu, 6th District Congressman Bill Cassidy, and Rob Maness have all accepted invitations to take part in the debate. Other sponsors of the event include Louisiana Public Broadcasting (LPB), the Council for A Better Louisiana (CABL), the AARP, and the Shreveport Chamber of Commerce. Attendance at the debate is by invitation only.
The October 3 event will give students unable to attend the U.S. Senate Debate the opportunity to hear from and ask questions to Senator Landrieu.
###
About Centenary College of Louisiana
Centenary College of Louisiana is a selective, residential, national liberal arts college affiliated with the United Methodist Church. Founded in 1825, it is the oldest chartered liberal arts college west of the Mississippi River and is a member of the Associated Colleges of the South.