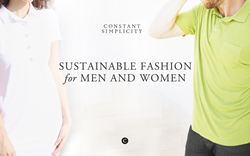 Each t-shirt in the collection saves at least 400 gallons of water compared to a traditional cotton tee.
Durham, NC (PRWEB) October 03, 2014
Sustainable fashion upstart, Constant Simplicity today announced the unveiling of its Bamboo Collection this Wednesday October 1st on Kickstarter.
This collection of men's and women's tees, polos and polo dresses is the result of many months of research and analysis driving their quest to design and manufacture stylish, sustainably-produced clothing for men and women.
Stemming from the conclusion that existing sustainability efforts in fashion are simply not scientific enough, all sourcing and manufacturing decisions are driven by Life Cycle Assessment (LCA) – a tool that calculates environmental impact across the entire supply chain. Constant Simplicity founder, Atnyel Guedj, and sustainability officer Zhenzhen Chen worked with researchers from Duke University to increase efficiency, reduce energy use and recycle water and waste alike. Each t-shirt in the bamboo collection is not only softer and more breathable than cotton, but saves at least 400 gallons of water compared to a traditional cotton tee.
Constant Simplicity founder Atnyel Guedj added:
"After building a career in fashion over ten years in London, Milan, Hong kong and Shanghai I was vividly confronted by fashion's impact on people and planet and I didn't like what I saw."
In addition, the entire collection is sewn locally in the USA, supporting the economy as well as ensuring high labor and environmental standards among manufacturing partners. All of these innovations across the supply chain allow Constant Simplicity to offer complete transparency to its customers and ensure the minimum possible global and environmental impact in terms of resources and communities.