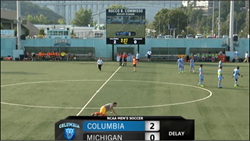 BRONX, NEW YORK (PRWEB) October 01, 2014
Mount St. Michael Academy and Cardinal Spellman High School today announced the schools' varsity boys squads will meet in the first-ever high school soccer match at the recently named Rocco B. Commisso Soccer Stadium at Columbia University's Baker Athletics Complex.
The game between the Mount and Spellman will take place on Thursday, October 16th, 2014, at 5:30pm. Admission to this historic contest between these traditional Catholic school rivals is free, and alumni of both high schools are encouraged to attend. Parking will be available outside the Baker Athletics Complex, but public transportation is encouraged.
Optimum TV subscribers will be able to watch a live high-definition presentation of the game online at MSGVarsity.com and on the iOS MSG Varsity app. In addition, on-demand replays will be available on those digital platforms immediately following the event, and 48 hours after the game on Optimum TV channel 614.
The soccer venue at Baker Athletics Complex is located at the corner of West 218th Street and Broadway. This 3,500 seat stadium is named in honor of Rocco B. Commisso, founder, Chairman and CEO of Mediacom Communications Corporation and 1967 graduate of the Mount. A three-time All-Ivy League honoree during his playing days at Columbia, Commisso has been an active supporter of the university's men's soccer program for over 40 years. Recently, he endowed the Rocco B. Commisso American Dream Scholarship Fund at Mount St. Michael Academy.
About Mount St. Michael Academy
Mount St. Michael Academy, established in 1926 by the Marist Brothers, is one of the premier Catholic schools in New York City and a US Dept. of Education Blue Ribbon School of Excellence. The Mount, located at 4300 Murdock Avenue in the Bronx, provides a rigorous, value-centered, college preparatory education to a family and brotherhood of young men, fostering each student's unique potential for personal excellence, and striving to help our diverse students grow in maturity as healthy, well-rounded, service oriented leaders.
About Cardinal Spellman
Cardinal Spellman High School is the premier, independent, co-educational, college preparatory, Catholic high school in the New York Metropolitan area. Their mission is to promote a culture of aspiration that encourages superior academic performance, leadership, and service. They strive to make their program available to all qualified students. They emphasize personal development and they foster a commitment to others that empowers their diverse student population to become leaders who make a difference in our community, nation, and world.
Press Contacts:
Julie Androshick Boyle
Director of Development
Mount St. Michael Academy
4300 Murdock Avenue
Bronx, NY 10466
Phone: 347-236-7700
Jennifer Rivera
Vice President, Advancement
Cardinal Spellman High School
One Cardinal Spellman Place
Bronx, NY 10466
Phone: 917-399-1339
Thomas J. Larsen
Group Vice President, Legal and Public Affairs
Mediacom Communications Corporation
One Mediacom Way,
Mediacom Park, NY 10918
Phone: 845-443-2754
Download Printable PDF: Click here