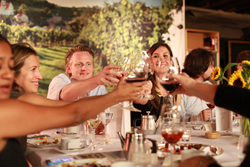 New York, NY (PRWEB) October 07, 2014
There are those who claim that one does not really know a country until one becomes familiar with its cuisine and shared a meal or two with the locals. This is definitely true for Austria, where a dinner with friends at a typical restaurant reveals much about the Austrian way of life, the penchant for "Gemuetlichkeit", the pride in local specialties and secret family recipes, and even the geography and history of the region.
With the newly launched Social Media Campaign "My Austrian Evening", the Austrian Tourist Office is now bringing one such experience to the home of a lucky winner. Via a Facebook app (http://budurl.com/MyAustrianEvening) participants have until October 31 to register for a chance to win, and share the contest URL with their friends for a shot at many additional bonus prizes.
The main prize includes a 4-course meal prepared by an Austrian chef at the winner's home. From crisp Wiener Schnitzel to sumptuous desserts and fine Austrian wines, the lucky winner and up to ten close friends will get to enjoy a piece of Austria in their own living-room. Because an Austrian Evening would not be complete without classical music, a string quartet will impress your friends with pieces form Mozart and Strauss.
In addition, the winner receives an Original Sacher-Torte, arguably the world's most famous chocolate cake, as well as a gift bag which includes table decorations and linens by renowned Austrian companies such as Lobmeyr and Die Schwaebische Jungfrau.
Austrian's love a good meal, but even more they love to enjoy it in good company. The most important ingredient for a typical Austrian "dinner party" is "Gemuetlichkeit", the feeling of contentment and liveliness when you share the bounty of your table with friends, enjoy animated conversation over a glass or two of excellent wine, and listen to a beautiful piece of music in the background. An evening like that can now be yours, when you enter to win #MyAustrianEvening.