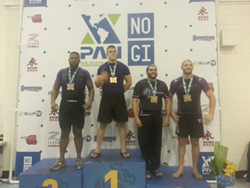 "I have been off the Jiu Jitsu grid for a couple months and it feels good to get back on the competition scene."- Alfonso Washington
New York, NY (PRWEB) October 03, 2014
Alfonso Washington defeated two opponents this past Saturday to achieve second place in the Purple Belt Ultra Heavy Weight division of the No Gi Pan grappling competition.
Washington, a Purple Belt in Brazilian Jiu-Jitsu, is one of Maryland's most decorated BJJ competitors, having medals from the World Championships at the Blue Belt and Purple Belt level. He is also one of the few Maryland Jiu-Jitsu competitors to have placed at all four of the major grappling tournaments: European Championship, Brazilian Championship, Pan Championship and the World Championship.
"I have been off the Jiu Jitsu grid for a couple months, and it feels good to get back on the competition scene," says Washington.
Alfonso Washington has been a decorated grappler for quite some time, having first showing up on the podium at the major level back in 2010. He is also starting to transition over to UFC-style Mixed Martial Arts to pursue a professional career.
"I've actually been focusing on my striking, but with such a good tournament so close, I decided to hop in there and compete," says Washington.
The No Gi Pan is an annual competition run by the International Brazilian Jiu-Jitsu Federation (IBJJF). The event takes place in New York City and is considered the 2nd most difficult No Gi Competition run by the Federation. The IBJJF is the governing body for the major grappling tournaments in the world, including the World Championships, Pan, European Open, and the Brazilian Nationals.
Crazy 88 is a mixed martial arts program with locations throughout the Baltimore area. They teach Brazilian Jiu-Jitsu, Mixed Martial Arts (MMA), Boxing, and Kickboxing. Find out more at http://www.WholeMonthFree.com or call (443) 283-1450.