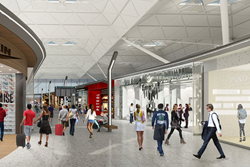 UK (PRWEB UK) 3 October 2014
Manchester Airport Group (MAG) appointed Chapman Taylor to develop the concept and scheme design for the major reconfiguration of the International Departure Lounge at Stansted International Airport, UK. The scheme includes a walk through World Duty Free store, 3,000sqm of retail and 3,040sqm of food and beverage units.
Phase one of Stansted Airport's brand new international departure lounge was officially opened on Monday. This first phase includes a new World Duty Free shop (the largest of its kind in terms of retail space) and other high street travel brand stores. In total this phase has created an extra 250 full and part-time jobs.
Jonathan Fishlock, Associate Director at Chapman Taylor, comments: "As the leading architect practice in the UK for Retail in transportation environments, our brief from MAG was to create a world-leading International Departure Lounge Retail and F&B offer to rival any other airport in Europe, if not the world. Whilst this is only the first phase of the revitalised retail offer we are delighted that we are well on the way to helping MAG achieve their vision for Stansted'.
The overall transformation project, set to be fully complete by autumn 2015, will significantly improve the services and facilities available for passengers.
# ENDS #
Notes to editors
Chapman Taylor is a multi-award winning international practice of architects, masterplanners and interior designers. They are a world-leader in the design of retail and large scale mixed-use schemes. With experience in every major industry sector, they specialise in Retail and Mixed Use, Leisure, Workplace, Transportation, and Residential. Operating from 16 regional design studios across Asia, Europe, and Central & South America, they have created and delivered many world-leading architectural projects across 80 countries globally. Their success is principally due to the quality of their people who are industry leaders in blending different architectural expertise disciplines together to deliver creativity, best-in-class design but most importantly commercially successful buildings. They have won over 200 architectural awards globally.
Visit: http://www.chapmantaylor.com/en/projects/detail/stansted-international-departure-airport-lounge/en/