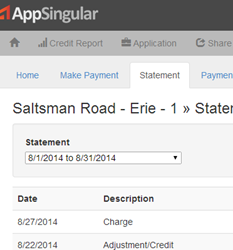 "Convenience is the #1 benefit of VerticalRent," says VerticalCloud CEO Matt Angerer.
Erie, PA (PRWEB) October 06, 2014
VerticalRent has partnered with Jack Henry & Associates, Inc.'s (NASDAQ: JKHY) Payment Solutions group to provide VerticalRent customers with the ability to accept rent payments from their tenants electronically via the secure AppSingular portal using a smartphone.
Launched in 2011, VerticalRent has become the fastest-growing tenant screening service on the Web. It helps over 5,000 landlords, brokers, and real estate agents every month with their tenant screening needs. VerticalCloud, the makers of VerticalRent and AppSingular, were recently recognized and featured by Microsoft BizSpark among other accolades.
"Convenience is the #1 benefit of VerticalRent. We give landlords the ability to quickly screen tenants and make smart leasing decisions. Beyond tenant screening, we now offer online rent collection for our customers. Jack Henry & Associates' Payment Solutions group makes this a reality," VerticalCloud CEO Matt Angerer.
Similar to what PayPal does for secure e-commerce orders, VerticalRent delivers a comprehensive tenant portal called AppSingular for applicants and renters looking to either apply or pay rent online. With Jack Henry & Associates' world class payment processing network, AppSingular can be used on a resident's smartphone to quickly pay rent or set up recurring ACH rent payments. This convenience saves renters time and landlords hassle in collecting and depositing paper rent checks.
VerticalRent customers can start experiencing the conveniences of online rent collection by upgrading to either the Premium or Professional subscription plans.
About Jack Henry & Associates, Inc.
Jack Henry & Associates, Inc.® (NASDAQ: JKHY) is a leading provider of computer systems and electronic payment solutions primarily for financial services organizations. Its technology solutions serve more than 11,300 customers nationwide, and are marketed and supported through three primary brands. Jack Henry Banking® supports banks ranging from community to mid-tier institutions with information processing solutions. Symitar® is the leading provider of information processing solutions for credit unions of all sizes. ProfitStars® provides best-of-breed solutions that enhance the performance of domestic and international financial institutions of all asset sizes and charters using any core processing system, as well as diverse corporate entities. Additional information is available at http://www.jackhenry.com.
About VerticalRent
VerticalRent is FCRA-compliant tenant screening software. Our product is designed to assist property managers, landlords, and tenant screening firms that require advanced tenant screening capabilities. We also provide attorney-approved leases, sample real estate forms, a basic accounting system, no-cost online rent collection, vacancy advertising, and premium tenant screening services with no-cost credit, criminal, and eviction reports.