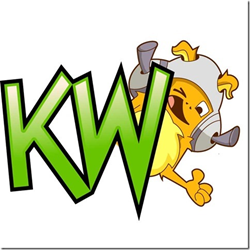 We are elated to have Ray Matthews & Deanna Beaudoin join us at this exciting stage, remarked Allen Achilles, CEO.
Vancouver, BC (PRWEB) October 02, 2014
Kidzworld, global Kid & Teen Social Networking Portal, announced today it has engaged Ray Matthews & Associates (RM&A Inc, http://www.raymatthews.ca) to provide strategic advisory consulting expertise.
"We are elated to have Ray Matthews & Deanna Beaudoin join us at this exciting stage," remarked Allen Achilles, CEO. "Ray has an eclectically successful track record as a 'way-maker' that is extremely timely with our needs – with skill sets spanning master teacher, business developer, venture catalyst and, ironically, a motivational speaker to youth whom also previously launched a youth portal with similar values to Kidzworld," added Mr. Achilles.
"When I first met Allen, I was overwhelmed with the serendipity of our meeting, as Kidzworld was so much of what I was working to create in my passion as an educator and youth-centric entrepreneur," stated Mr. Matthews. "We are excited to bring the power of our youth-specific expertise and network to bear on accelerating the great progress that the Achilles family have achieved, and helping drive the company towards a catalyst and subsequent M&A path in the next 24 months."
Also joining Kidzworld from RM&A Inc is Deanna Beaudoin. A digital marketing entrepreneur, published journalist and youth pastor with magical podium presence, Deanna has broadened the scope of her digital ecosystem and will now expand her reach to impact Kidzworld's growing site population, strategy and content.
"Equally as exciting is having Deanna Beaudoin join us in-house - a digital communications pro and youth pastor whom regularly facilitates youth empowerment and positive technology seminars, Deanna is keenly astute in leveraging the power of technology, youth ministry and digital media sources to inspire and aggregate youth. Her expertise and constellation will be invaluable to Kidzworld," added Jordan Achilles, Kidzworld Manager of Social Media.
"I have a large, international youth focused network whom are ecstatic about Kidzworld – and they will help populate and promote content while continuing to expand our global footprint," stated Ms. Beaudoin.
About Ray Matthews & Associates / Ray Matthews
Ray Matthews & Associates Inc (RM&A) (http://www.raymatthews.ca) is a strategic advisory firm providing boutique services to a finite number of Canadian and U.S.-based companies with disruptive business models. Ray Matthews, a former educator, Rotary Foundation Scholar, author and entrepreneur, is a marketing, business development and financing specialist. After Ray's tenure as a master teacher on Vancouver Island, Ray founded the direct-sales company Balance Fashions and turned it into a multi-million dollar company in just 24 months. After expanding sales distribution internationally, he sold it successfully in 1992. Mr. Matthews then ventured into the web world as a financier and start-up specialist – co-founding youth portal OP4 (Our place for Entertainment, Empowerment, Educational Content) – which grew to over 500,000 users in 12 months and was one of the first to partner an online, live streaming internet show with Torstar. Ray also toured North America as a motivational speaker to youth – empowering young people with themes of adversity, overcoming obstacles and loss and esteem-enhancing themes of personal empowerment.
In 2000, Ray co-founded and led the financing of Qwest Emerging Biotech Fund (VCC) Ltd., a boutique technology fund that in 2004 merged into the Advantage LS Fund I and, in 2006, won Canadian Venture Capital Association 'Deal of the Year' for its successful exit of Aspreva from Victoria (23.4X). In addition to leading the fund raising, Ray targeted and closed a strategic agreement between Qwest Emerging Biotech Fund (VCC) Ltd. and Burrill and Company, one of the largest life science merchant banks in the world.
Ray is also the founding partner of Lions Capital; was responsible for aggregating over $350 million in venture capital and portfolio company financings, and assisting significant fund raising requirements for external private and public companies. http://www.raymatthews.ca/what-people-are-saying.html
About Kidzworld
Based in Vancouver, Canada, Kidzworld (http://www.kidzworld.com) is a large global Kid and Teen Social Networking Portal; providing a safe, secure, content-rich site attracting millions of 9- to 16-year-olds in over 200 countries.
For more information contact:
Deanna Beaudoin
m! Media
Deanna(at)kidzworld(dot)com
1.250.650.4327