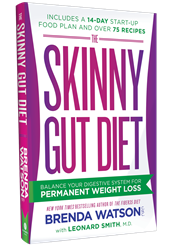 I'll help you put into action the simple steps to balance your gut to achieve your ideal weight and feel your best!
Clearwater, FL (PRWEB) October 07, 2014
In The Skinny Gut Diet(on sale now, Harmony Books), New York Times bestselling author, certified nutritional consultant, and digestive health expert Brenda Watson offers an insightful perspective on this connection between weight gain and an underlying imbalance of bacteria in the gut, or what she calls the gut factor. Drawing upon the latest scientific research, Watson illuminates the inner workings of the digestive system and provides instructions for achieving a healthy bacterial ecosystem that initiates weight loss by enabling the body to absorb fewer calories from food, reduce cravings, and store less fat.
The premise is simple: curtail sugar consumption (and its surprising sources) and eat more healthy fats, living foods, and protein to balance the bacteria in your digestive tract. The result? A skinny gut and optimal health.
"This book will give you the tools you need to finally shed unwanted weight—both of physical pounds and of unhappiness. I will reveal how the digestive system is the true source of health, and I'll help you put into action the simple steps to balance your gut to achieve your ideal weight and feel your best." —Brenda Watson
The Skinny Gut Diet centers around an easy-to-follow lifestyle plan. A 14-day eating guide, dozens of delicious and easy to prepare recipes, and sage advice will help you achieve—and maintain—digestive balance and sustained weight loss. With inspiring real-life stories of individuals who transformed their health and their waistlines on the Skinny Gut Diet, Watson empowers you to become your own health advocate.
The Skinny Gut Diet is a lifestyle that will transform readers by giving them the tools to eat well for their gut so that they can lose those extra pounds, regain their health, and enjoy the vitality that newfound health brings.
About the Authors:
BRENDA WATSON, C.N.C. has dedicated her career for over twenty years to helping people achieve vibrant, lasting health through improved digestive function. She is among the foremost authorities in America on optimum nutrition, digestion, and natural detoxification methods. Brenda is the author of the New York Times bestseller The Fiber35 Diet, as well as eight other books on gut-related health.
LEONARD SMITH, M.D. is a board-certified general, gastrointestinal, and vascular surgeon. He is currently on the volunteer faculty at the University of Miami Department of Surgery and Department of Integrative Medicine.
JAMEY JONES is a health and science writer with a background in botany and nutrition. She has coauthored Heart of Perfect Health, The Road to Perfect Health, and Gut Solutions, second edition, all with Brenda Watson.
For additional information on The Skinny Gut Diet book, please contact Bcooper(at)renewlife(dot)com