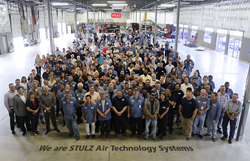 "At STULZ, we do our own engineering, metal stamping, electrical wiring, powder coating, controls programming, piping, and testing. To us, that is what 'made in America' means." Joerg Desler, President
Frederick MD (PRWEB) October 08, 2014
STULZ Air Technology Systems announced the completion of the first phase of its planned expansion to its existing US production facilities in Frederick, MD. STULZ manufactures high-tech cooling solutions for mission critical applications and data centers including a full line of energy efficient precision air conditioners, outdoor air handlers, ultrasonic humidifiers, and desiccant dehumidifiers.
"We are very excited to announce this significant investment to expand our advanced manufacturing capabilities in the United States on National Manufacturing Day," said STULZ Air Technology Systems President, Joerg Desler.
Although STULZ is a global company that is headquartered in Hamburg, Germany it has maintained a design and manufacturing infrastructure in Frederick, MD since 2001. "STULZ is proud to design, and manufacture all of our products for North America here in Frederick, MD," Mr. Desler continued. "This investment demonstrates our continued commitment to producing quality, high-tech mission critical cooling solutions here in the USA." The expansion includes the purchase of a 41,000 square foot building adjacent to the existing facility. This new building will house a greatly expanded sheet metal fabrication area and weld shop. In addition, two new powder coat lines are in the process of being installed by a local vendor.
"Many people do not realize the scope of our commitment to local design and manufacturing," said Mr. Desler. "It is an unfortunate yet common reality that many companies will produce the majority of their components overseas and then claim to be 'made in America' simply because the final assembly occurs domestically. At STULZ, we do our own engineering, metal stamping, electrical wiring, powder coating, controls programming, piping, and testing. To us, that is what 'made in America' means."
The existing STULZ Air Technology Systems manufacturing facility will also see a portion of the overall investment with expanded space for a growing line of outdoor air handling units and large capacity perimeter cooling systems (the largest capacity units commercially available). Overall, the expansion is expecting to create more than 25 permanent US jobs in the Frederick, MD community.
According to Mr. Desler, the motivation for the expansion is due to increased demand and changing market conditions. "The mission critical cooling industry is becoming more sophisticated and customers are demanding a greater spectrum of custom and semi-custom solutions. By having direct control over our manufacturing process and proximity to high-quality local suppliers, I feel that STULZ is better suited to meet the needs of a changing market."
About STULZ Air Technology Systems, Inc.
STULZ Air Technology Systems, Inc. (STULZ) is an ISO 9001 registered manufacturer of environmental control equipment including a full line of energy efficient precision air conditioners, air handling units, ultrasonic humidifiers, and desiccant dehumidifiers. The company is responsible for product development, manufacturing, and distribution for the North American arm of the international STULZ Group. For more information about STULZ ATS and its products, call 301-620-2033. E-mail your request to info(at)stulz-ats(dot)com or visit http://www.stulz-ats.com.