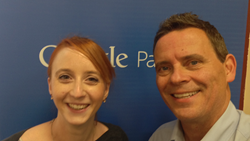 All those old-school strategies cost schools more and give them less. Therefore, it's time to break the rules.
(Andover, MA) (PRWEB) October 08, 2014
Effective Student Marketing has been selected to present at the CAPPS 30th Annual Conference being held October 15-17 in Monterey, CA. CAPPS represents more than 300 institutions of higher education in California, advocating for its members on a range of issues from improving overall image to focusing on specific legislation that could affect the sector it serves. Effective Student Marketing has been working with CAPPS member schools for nearly a decade and was selected to offer its expert advice on social media marketing and generating student referrals.
Effective Student Marketing President Andy Kelley and Director of Social Media Services Cassie Viau will present Drive Student Referrals Using Social Media on October 16th. With a strong emphasis on the analysis behind social media marketing measures, the Effective Student Marketing team intends to demonstrate how social media can be used to increase student enrollment.
"Higher education marketing doesn't work like it used to. All those old-school strategies cost schools more and give them less. Therefore, it's time to break the rules," said Kelley. "In the last 18 months, marketing has undergone a major shift and there's a whole new way of doing things. If schools expect to remain relevant to millennials and Gen Z members, they absolutely need to change their way of thinking and take advantage of more modern digital marketing tools, technologies and practices that give them more and cost less. We plan to show them the way at this conference."
According to Viau, schools can first find future students online and then work to build relationships with them and those who influence them. She says it is easy to see the connection between social media and the fact that recommendations of friends and family matter most when students are deciding where to pursue their postsecondary education.
"Social media is where prospective students are communicating," said Viau. "Students aren't recommending a school to their friend in person anymore. They're tweeting about it or sharing it on Facebook. When a school is active on social media and can generate engagement from current students and graduates, the school is able to reach a whole new audience through the viral nature of those social networks. It gives prospects a chance to get to know and trust the schools, through their personal connections."
Viau says that she and Kelley will offer attendees actionable steps that they can put to immediate use to help them reach their schools' recruitment, enrollment and retention goals. They will share strategies that they have successfully used with clients across the country and offer case studies and statistical evidence to support their positive results.
Viau and Kelley will speak at 10:45 AM on Thursday. Effective Student Marketing will also be exhibitors at the event at the Hyatt Regency Monterey Hotel & Spa at Booth #35. Visit them at the conference and be sure to check out their presentation: Drive Student Referrals Using Social Media. Those interested who cannot attend the presentation can learn more by downloading the Effective Student Marketing free article as it appeared in Career Education Review: Generating Student Referrals Through Social Media from their website.
About Effective Student Marketing:
Effective Student Marketing specializes in integrated online marketing strategies that bring together social media marketing, pay-per-click advertising, and content creation to help institutions of higher education engage with students, graduates and future students to achieve their student enrollment and retention goals. Andy Kelley founded the company in 2004 and he and his team have a "we'll figure it out" philosophy that combines creativity and technology to stay on top of the latest tactics and trends in the online marketing industry for higher education. You can find more information about their services at effectivestudentmarketing.com.