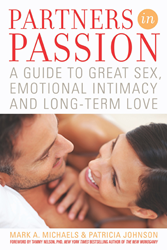 "With a thorough resource guide included, this book runs the gamut on sex education, and the authors' sex-positivity, feminism, and rejection of gender stereotypes makes it a welcome addition to the genre."—Publishers Weekly
(PRWEB) October 06, 2014
Mark A. Michaels and Patricia Johnson, authors of award-winning Partners in Passion, share seven reasons to venture into tantric intimacy on Latina.com.
"From boosting the immune system to strengthening your emotional connection, tantra may just be what [you need]," writes Latina.com. Couples also practice tantra to enlighten and respect one another, mention Michaels and Johnson.
About Partners in Passion:
Happily married partners in passion themselves, Mark A. Michaels and Patricia Johnson provide readers with a fun, step-by-step manual to creating a lasting, loving and erotic relationship.
Partners in Passion proposes alternative models of long-term connection, founded on mutuality, a collaborative mindset, empathy and transparency. It features interviews with long-term couples and includes an extensive resource guide that covers everything from health to erotica, with excellent advice from many of today's leading sexuality and relationship educators. Partners in Passion is also available as an audiobook.
About Cleis Press:
Cleis Press publishes provocative, intelligent books across genres. Whether literary fiction, human rights, mystery, romance, erotica, LGBTQ studies, sex guides, pulp fiction, or memoir, you know that if it's outside the ordinary, it's Cleis Press.