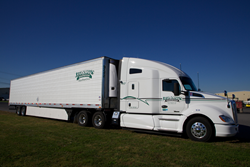 ALBANY, NY (PRWEB) October 05, 2014
Bestpass™, Inc., providers of bulk purchasing and streamlined toll management services to commercial fleets, today announced Bestpass Data Interchange, an advanced, flexible, integrated toll management technology for fleet enterprise systems.
"The Bestpass Data Interchange platform provides for seamless management through automated integration and exchange of toll and vehicle related information with fleet back office systems," said John Andrews, president and CEO of Bestpass. "While our customers have had the ability to download aggregated up-to-the-minute posted toll data from our portal for a number of years, they've been looking for ways to more tightly tie that into their existing management systems. Highly flexible, Data Interchange uses a variety of secure delivery methods to communicate with fleet systems, doing the heavy lifting in the background so fleets have the actionable information they need to address tolls, which are one of the top five daily expenses for many motor carriers."
Features of the Bestpass Data Interchange include:

Advanced exchange of actionable data in near real-time, including grouping transactional data by cost center, billing group, vehicle location and other parameters
Flexible, secure data delivery methods, including FTP, on-demand user download from client web portal, and advanced automated web service for carriers with IT departments
Data formats include CSV, XLS, XML, and PDF
Provides both automated and bulk toll download and vehicle updates directly from fleet management and billing systems
Vehicle updates include trucks, tractors and trailers; including the full capability to manage temporary and leased units
On demand toll data downloads that normalize billing cycles from tolling authorities to a calendar month
Bestpass uses its toll management solutions and bulk purchasing power to provide trucking operations, from owner-operators to some of the country's largest commercial motor carriers, with savings beyond standard toll charge discounts and with efficiencies via user-friendly account management tools and consolidated billing. To date, Bestpass has provided customers with $30 million in toll cost savings.
Leonard's Express, a family owned asset-based transportation provider headquartered in Farmington, New York, is using Bestpass to more efficiently manage its operations. The company, with 19 offices throughout the United States, provides truckload dry van, refrigerated and flatbed service to 48 states, Quebec and Ontario using a fleet of 225 power units and 580 trailers.
"With Bestpass we have up to date information about tolls that we can use to better manage operations," said Kyle Johnson, CIO of Leonard's Express. "For example, we can quickly assess if a toll road is the most cost effective route based on traffic conditions, or if a driver is using unapproved toll roads, and take corrective action immediately. The faster we get that information to our managers, the more efficiently we are able to run our operation."
About Bestpass™, Inc.
Founded in 2003 by the New York State Motor Truck Association, Bestpass was designed for truckers, by truckers, to save commercial motor carriers time and money. Bestpass offers a streamlined, single-source toll management service that includes toll discounts, consolidated billing, violation processing and a single device for both toll and weigh station bypass. Bestpass is compatible with a growing number of toll and weigh station bypass networks and has partnerships with state highway authorities throughout the United States. Currently, Bestpass customers have more than 250,000 pieces of equipment and over 125,000 transponders in service, resulting in over $22 million in tolls processed monthly. For more information, visit http://www.bestpass.com.
Media Contact:
Susan Fall
LaunchIt Public Relations
858-490-1050
susan(at)launchitpr(dot)com