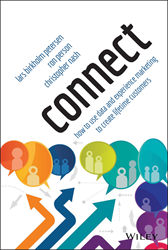 Hoboken,NJ (PRWEB) October 06, 2014
"Connect: How to Use Data and Experience Marketing to Create Lifetime Customers," is now available to guide organizations to go beyond traditional marketing to build meaningful customer experiences. Published by Wiley, and authored by digital experience optimization experts Lars Birkholm Petersen, Ron Person and Christopher Nash with a foreword by Brian Solis, "Connect" outlines how organizations of any size and maturity can succeed in the new age of marketing. Connect aims to help readers learn how to most efficiently collect and connect customer data to deliver relevant, real-time brand experiences that win customers for life.
Marketing is going through a revolution that rivals the impact of Gutenberg's printing press. Customers are increasingly in control of their buyer journey which grows more complex as the number of communication touch points continues to multiply. It's more important than ever to have connected marketing that is relevant to customers' needs across myriad channels. For many organizations, establishing the data-driven customer centric approach needed to succeed requires a new approach to the people, process and technology.
"Organizations must realize that customer behavior has changed dramatically. To compete effectively, they need to change their approach now," said Lars Birkholm Petersen."Building relevant and timely experiences at every step of the relationship will build lifetime customers, increasing revenue and company value."
Connect reveals how to effectively break down organizational barriers and reach higher customer experience maturity. It provides a step by step guide to success– from quick wins to setting and achieving a long term experience marketing vision. Tapping into the new business model that connects people, processes and technologies, "Connect" provides a roadmap for customer experience success, to reveal how readers can use these techniques to gain a competitive advantage. Readers will come away with new approaches and real-world examples to help them create marketing that is personal, relevant and accessible at all touch points throughout a customer's life cycle.
According to the authors' research, which assessed more than 1,000 businesses, 85.4% of organizations are trapped in the low levels of customer experience maturity; they don't use data from different touch points to influence the future experiences and very few have executive buy-in for making change. Only 4.4% are classified by high digital maturity, even though the connection between customer experience and financial performance is significant.
Research performed by Watermark Consulting found that, for the six-year period from 2007 to 2012, the customer experience leaders in the study outperformed the broader market, generating a total return that was three times higher on average than the S&P 500 Index.
"Connect" offers compelling case studies, real-life examples, recommendations, initiatives and specific processes for moving beyond the initial stages of customer experience maturity to a higher level of marketing excellence. The book's companion website (http://www.connecttheexperience.com) includes a wealth of content, templates and assessments that will help leaders align marketing and business objectives, develop more strategic approaches to customer experience, and achieve experience marketing success.
For more information, visit the official "Connect" website here: http://www.connecttheexperience.com/.
About the Authors
Lars Birkholm Petersen is a passionate and innovative senior strategist committed to helping organizations adapt to customer needs by providing strategy and guidance for creating connected customer experiences using innovative technology.
Ron Person enjoys his work so much he even spends weekends thinking how to create new performance improvement processes. He gets great satisfaction from seeing the people he works with adopt processes that energize and build a better business.
Christopher (Chris) Nash is a curiosity-driven analog and digital marketer who frequently hangs out at the corner of business and technology. Over the course of his business career, he has advised numerous brands on digital marketing adoption challenges, co-founded a marketing automation company, grown a successful independent consulting business, and traversed the international business arena.