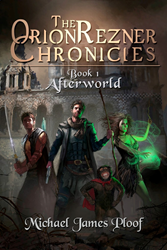 The Culling Begins Halloween 2014
(PRWEB) October 23, 2014
Michael James Ploof, author of the Amazon Bestseller fantasy series, "Legends of Agora," will be releasing the first of his upcoming series. The new book, entitled "Afterworld: The Orion Rezner Chronicles," is a paranormal urban fantasy featuring all of the necessary elements for the perfect reading during the Halloween season: witches, wizards, ghosts, and more.
The story takes place in the year 2040 in Boston, following an event known as the Culling, which wiped out most of the world's population. Boston is now one of the last vestiges of humanity in a post-apocalyptic world being overrun by demons, vampires, and werewolves.
While working towards his final rite of passage at Harvard Witchcraft and Wizardry, Orion learns of a demonic plot that would destroy Boston. With suspicious eyes watching him, Orion must save the city from this deadly scheme.
Interestingly, the book also features the Ghost of Benjamin Franklin – who founded the American Wizard Council – as Orion's mentor. Ploof writes Franklin's character to speak only in quips from Poor Richard's Almanack. Orion is also accompanied by a genetically altered chimpanzee named Dude.
The book alternates between humor and intense action scenes, raising moral dilemmas, and features a unique hard magic system. Ploof credits "The Dresden Files," by Jim Butcher as one of the major influences on this work.
"Afterworld: The Orion Rezner Chronicles" will be released through Amazon on October 31, and can be pre-ordered in both paperback and eBook format, through Kindle.
About Michael James Ploof
Michael James Ploof self-published his first book, "Whill of Agora," in the summer of 2012. This first installment, along with parts two, three, four, and "Talon: The Windwalker Archive," make up the fantasy series "Legends of Agora," and have been featured on numerous Amazon best-seller fantasy lists. As a self-published Author, Ploof has sold over 50,000 eBooks worldwide, and currently has nine books available on Amazon. He has also been ranked among Amazon's top 100 fantasy authors numerous times, even reaching the rank of #18 at one point. "Afterworld" is the new series by Michael James Ploof.
Contact:
Michael James Ploof
315-705-8829
ploofer2727(at)gmail(dot)com
http://www.whillofagora.com/