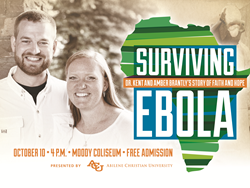 For us, this is not just one of many speaking engagement requests we got," Kent says. "ACU really is important to us. It has been formational in our lives, and we are honored and humbled and pleased to get to be there for Homecoming.
Abilene, TX (PRWEB) October 07, 2014
Dr. Kent Brantly is the 2003 ACU graduate who contracted Ebola while working as a medical missionary in Liberia. Brantly has appeared in Washington before a congressional panel to urge the world to act quickly to turn the tide against the disease that has now come to the U.S.
While at ACU, both Kent and his wife Amber will talk about his close call with Ebola and how their lives have changed since his amazing recovery. "For us, this is not just one of many speaking engagement requests we got," Kent says. "ACU really is important to us. It has been formational in our lives, and we are honored, humbled and pleased to get to be there for Homecoming."
Surviving Ebola invite – Facebook page:
https://www.facebook.com/events/828962223821962/?ref=br_tf
See original reporting about the Brantlys produced by ACU (seven stories):
http://blogs.acu.edu/acutoday/?s=brantly&submit.x=0&submit.y=0
Follow us on Facebook: https://www.facebook.com/abilenechristian?ref=br_tf