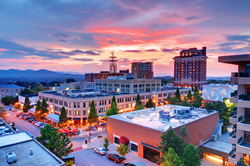 Trend Setting Home Building Ideas
Asheville, North Carolina (PRWEB) October 07, 2014
It's always a fine day for a parade, and folks living in Asheville North Carolina or those considering it take this opportunity to heart. It's the chance to tour Asheville home building masterpieces and trend setting construction designs. And what a better way for home builders to showcase the possibilities than to show them all off at one time. The 2014 Asheville Parade of Homes is ready to commence in just a few weeks!
Going on its 33rd anniversary, the 2014 Asheville Parade of Homes is THE event to attend for families interested in relocating to Western North Carolina. On the weekends of October 11-12 and 18-19, 2014 from noon-5 p.m., Featured in this year's Parade of Homes are 29 newly constructed homes throughout the Greater Asheville Area ranging in price from the mid 300,000's up to 1 million.
Asheville mountain communities will be bustling with prospects, real estate brokers and the local community touring model and custom homes. The event is hosted by the Asheville Home Builders Association and is lots of fun. Families and retirees will have a variety of home building, design and trend setting decorating ideas to explore during this self-guided tour through Asheville, North Carolina. Featured development companies include Southcliff and Ark Development.
While the 2014 Asheville Parade of Homes sounds like the form of a treasure hunt, it is actually much more. This home showcase gives Baby Boomers and families valuable information about relocation options in Asheville. Attendees can inspect the quality of the home builders in the parade and preview Asheville real estate developments up close. This is the perfect opportunity to bring a list of questions about sub-contracting, building materials, design layouts and how to choose the right homesite while finding the perfect neighborhood in Asheville.
Check out some of the Asheville mountain communities that folks will be able to see during the parade or after:
Biltmore Lake is the hype of Asheville home buyers this year. This 1,500- acre community consists of multiple neighborhoods, 4.2 miles of blissful walking and biking trails and several dedicated parks and fishing areas. A 62-mile lake overlooks the scenic mountain top views, while the additional amenities add a touch of luxury to the astonishing natural terrain. Boomers can spend their time in the community clubhouse, tennis or ball courts with their friends or just relax at home by the fire without a care in the world at Biltmore Lake.
The Ramble at Biltmore Forest is the community retirees are rambling about in North Carolina. This comfortable golf community is just a few miles south of downtown Asheville and is the center of serenity in the mountain woodlands. Enjoy the hiking and biking trails, hand-sewn fire pit and formal gardens with the perfect mountain back drop 24/7. Complete with the Living Well Fitness Center, outdoor amphitheatre and a variety of community parks, The Ramble at Biltmore Forest is a coveted residence for retirement in 2014.
Southcliff is the perfect place for parks and this Asheville mountain community will never be without. Five community parks and six miles of walking trails highlight this neighborhood in Asheville. To add to the excitement, two homesites are featured in the 2014 Parade of Homes– the Duermit and Arthurrutenberg models. Both spotlighting special features like 9' vaulted ceilings, custom flooring and covered porches to savor every moment of the scenic mountain landscapes. Southcliff and its homes are the ideal example of natural beauty in Asheville.
The Cliffs at Walnut Cove will sweep retirees off their feet with its charm. This 1,500-acre gated community is a dream for any retiree seeking luxury in the middle of a the mountain tops. An 18-hole Jack Nicklaus championship golf course and 19,700 sq. ft. clubhouse will occupy the athletes and social butterflies of the family. The outdoor and indoor heated swimming pools, four lighted Har-Tru tennis courts and six miles of hiking trails will keep anyone busy throughout the day. Add in the elegant Tudor-style architecture, elegant Walnut Cove Tavern and charming town in the center of the community, and it will make anyone fall in love. The Cliffs at Walnut Cove will romance Baby Boomers into retirement as soon as they enter the gates.
Sean McLaughlin of Mountain Oak Properties is Real Estate Scorecard's trusted colleague in Asheville and welcomes the opportunity to show folks Asheville mountain communities and more. In Real Estate Scorecard's opinion, McLaughlin's home building background is invaluable when it comes to choosing the right neighborhood and home builder.
Contact Sean McLaughlin directly at 248.470.4009.
About Real Estate Scorecard:
Real Estate Scorecard writes unbiased real estate reviews providing in-depth information about popular gated communities in Florida, Georgia, North Carolina, South Carolina, and Tennessee, all in an effort to help people discover where to retire in the Southeast.
Website: http://realestatescorecard.com