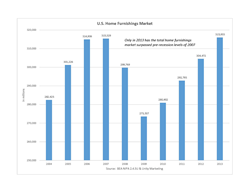 Marketers and retailers must adapt to the new business environment where the best customers demand a whole new way to shop for and buy home furnishings.
Stevens, PA (PRWEB) October 07, 2014
Only in 2013 did the home furnishings market recover its losses from the recession of 2008-2009. Today what's left of the home furnishings market in the wake of the recession is very different than the market that went into the recession, according to a new study by Unity Marketing.
"Marketers and retailers must adapt to the new business environment where the best customers demand a whole new way to shop for and buy home furnishings. Americans are "cocooning" in a new style combining fashion and function to create a safe, comforting and stress-free environment," explains Pam Danizger, president of Unity Marketing and author of the new report. Cocooning in New Luxury Style lays out a plan for marketers to grow in the new post-recession home furnishings market based upon a new survey of marketers' best, high-potential customers.
The Market Took Five Years to Recover from Recession Losses
The U.S. home furnishings market reached $315.3 billion in 2007, only to hit bottom at $273.5 billion in 2009 as a result of the recession. But it took five years for the home furnishings market get back to its pre-recession levels. At the close of 2013 industry sales were $315.9 billion, according to the latest estimate from the Bureau of Economic Analysis, NIPA 2.4.5. It took the market five years to get back to where it started in 2007.
Furniture & Home Furnishings Retail Remain Decimated
As the home furnishings market lost 13% of share in its collapse from 2007 pre-recession high to its 2009 low, retailers that specialized in furniture and home furnishings took a bruising. Back in 2007, there were 65,144 furniture and home furnishings retailers in the country. By 2012 there were only 51,998 – a 21% drop in the number of retail doors classified as furniture or home furnishings retailers, based upon the latest Census Department's 5-year Economic Census. In 2007 those retailers generated sales of $108.2 billion, or about 34% of the total home furnishings industry.
By 2012, the retailers that survived the recession had sales of only $89.1 billion, an 18% decline. Further in 2012 these retailers accounted for only 29% of the total industry, indicating that other types of retailers – department stores, discounters, online/internet, and others – have taken a huge chunk out of sales that used to go to furniture and home furnishings stores. Click this link for an infographic.
"So while the industry overall has recovered from the recession, furniture and home furnishings' retailers have suffered lasting reversal. In fact, this class of stores still lags behind sales of $91.8 billion in 2002," Danziger says.
Marketers' Hope for Growth: The Affluent 20% Account for 43% of Total Sales
The home furnishings market is heavily weighted toward the affluent consumer segment. The affluent (top quintile of U.S. households based upon income which starts at about $100k today) make up only 20% of total U.S. households, yet account for over 40% of the industry's sales, the report details. Danziger notes, "That makes each affluent customer two-times more valuable to retailers and marketers than a typical middle-income customer. They are the 'heavy-lifters' in the consumer economy."
Danziger continues, "Not only do the affluent make up a far greater share of industry sales than their total numbers would indicate, they also are the ones with discretion to pay a premium for new home furnishings. This is the consumer segment that home furnishings retailers and marketers must cultivate for growth now and in the future."
Beware: Affluents Are Careful Spenders
Danziger says, "Just because they are affluent and have more money to spend, that doesn't mean they are looking to spend it as fast as they can. The affluent are careful spenders and use all the tools available to comparison shop and get the best deal. They are value-oriented consumers, looking to maximize their investment in furnishings for their home that will return the utmost pleasure and enjoyment." Marketers that understand the affluents' attitudes and motivations in home purchases will uncover the secret to future prosperity and growth of their businesses.
New Report Delves into Affluents' Needs and Motivations in Home Purchases
Unity Marketing's latest trend report, Cocooning in New Luxury Style, delves deeply into the affluent consumer segment and their home furnishings needs and desires. In July 2014 Unity Marketing surveyed n=1,200 affluent consumers to discover their recent home furnishings purchases, what they bought, how they shopped, what motivated the purchases, their spending levels and much more.
The results of that survey provide a road map for growth to home marketers that need to understand their best potential customers. Plus the report includes a competitive analysis of how marketers as diverse as IKEA, West Elm, Wayfair, Restoration Hardware, Design Within Reach, LG, Ekornes, Saatva and others have successfully tapped the greater spending potential of affluents and they've done it at all different price levels.
About Pam Danziger and Unity Marketing
Pamela N. Danziger is an internationally recognized expert specializing in consumer insights for marketers targeting the affluent consumer. She is president of Unity Marketing, a marketing consulting firm she founded in 1992. Pam received the Global Luxury Award for top luxury industry achievers presented at the Global Luxury Forum in 2007 by Harper's Bazaar. Luxury Daily named Pam to its list of "Women to Watch in 2013." She is a member of Jim Blasingame: The Small Business Advocate's Brain Trust and a contributing columnist to The Robin Report.
Pam's latest book is Putting the Luxe Back in Luxury: How new consumer values are redefining the way we market luxury (Paramount Market Publishing, 2011). Her other books include Shopping: Why We Love It and How Retailers Can Create the Ultimate Customer Experience, published by Kaplan Publishing in October 2006; Let Them Eat Cake: Marketing Luxury to the Masses-as well as the Classes, (Dearborn Trade Publishing, $27, hardcover) and Why People Buy Things They Don't Need: Understanding and Predicting Consumer Behavior (Chicago: Dearborn Trade Publishing, 2004).