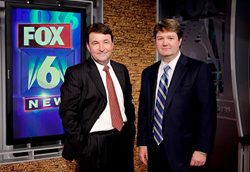 A focus group ... can prove invaluable in assessing the litigation strategy.
Birmingham, AL (PRWEB) October 07, 2014
Ken Riley, Esq., a senior partner with the Birmingham, Alabama personal injury law firm of Farris, Riley & Pitt, LLP, presented at the Game On Emerging Leaders CLE presented by the Alabama Association for Justice on August 28, 2014. Hosted at the B&A Warehouse in Birmingham, the event included continuing education lectures as well as networking opportunities for members and guests.
Mr. Riley presented on the topic "The Value of Focus Groups: Are You Thinking What They're Thinking?" before an audience of forty-five. "A focus group," Mr. Riley explains, "is a demographically diverse group of people assembled to participate in a guided discussion to provide ongoing feedback on various products, concepts, issues, etc."
In a legal context, focus groups can be used for a variety of purposes, including gaining an understanding into how a potential jury may interpret the evidence in a case. "This can prove invaluable in assessing the litigation strategy," indicates Mr. Riley.
"Biases exist, before a jury enters the courtroom," he elaborates. In Alabama, "76% believe there are too many lawsuits, 68% are willing to support a large verdict if the facts support it, and 36% believe that if you are religious that you should not sue, regardless of the facts."
About Farris, Riley & Pitt, LLP
The members of Farris, Riley & Pitt understand the challenges personal injury victims face following a serious accident, and aim to help deliver justice to those who have been wronged in an honest, fair and ethical way. Our injury attorneys value strong client relationships and are committed to producing excellent legal work in a professional manner. Our goal is 100% client satisfaction with a focus on community involvement.