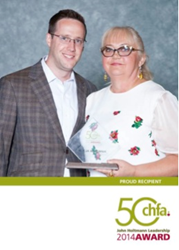 Alicja's greatest contribution is providing leadership, guidance, and inspiration to a new generation of the natural health product industry.
Toronto, ON (PRWEB) October 07, 2014
dicentra and Vitarock founder & CEO Alicja Wojewnik, M.Sc. has been recognized for her leadership, passion and commitment to the industry by the Canadian Health Food Association (CHFA). Ms. Wojewnik, a top Health Canada, Natural Health Product (NHP) and Food and Drug Administration (FDA) consultant, was awarded the 2014 John Holtmann Leadership Award at the CHFA East Conference Gala in September in Toronto.
The CHFA is Canada's largest trade organization dedicated to natural health and organic products, its American corollary being the NPA. Formed in 1964, it represents some 1,000 businesses across Canada — including manufacturers, retailers, wholesalers, distributors, and importers of natural and organic products. John Holtmann is one of the association's pioneering founders.
The sought-after John Holtmann Leadership Award recognizes a leader/mentor within the natural health industry who demonstrates passion and commitment, serves as an inspiration for others and has played a significant role within their company and in the wider industry.
About Alicja Wojewnik
A true pioneer, Ms. Wojewnik has dedicated her life to the natural health product industry and its success for over thirty decades. Her commitment to developing superior quality products coupled with her persistent devotion to protecting the integrity of the industry are cornerstones of her work.
Ms. Wojewnik has bridged consumer access to health supplements with the government's safety mandate and manufacturers' need for an open, fair marketplace. Her life's work has contributed to Canada's thriving and enviable natural products market. She always been about excellence and innovation, but also committed to contributing to the community at large. She literally inspires the next generation of natural health products industry workers through working closely with her two sons, Peter Wojewnik and Karol Wojewnik, MD. Her long and successful career includes directorships with top Canadian health product manufacturers and now burgeoning entrepreneurial endeavors with her own two companies.
Described as someone who is ambitious, energetic and fun, Ms. Wojewnik is always on the go and full of energy and new ideas. She brings color to any room and whenever things get quiet around the office one can always count on Ms. Wojewnik to bring some new action to life. "Alicja is an out-of-the-box thinker," explains Donna Herringer, co-founder of The Natural Health Show and former CEO of the CHFA. "She is a strong woman, and helps those around her be the best they can be."
"Alicja's greatest contribution is providing leadership, guidance and inspiration to a new generation of the natural health product industry," said dicentra VP of Business Development and Ms. Wojewnik's son Peter Wojewnik, who admires her frank, no-nonsense approach. "She is known as someone who always speaks the truth. That's the mark of a real leader."
In 1999, Ms. Wojewnik was appointed by then Health Minister Allan Rock to join a Health Canada transition team that would be tasked with developing a new regulatory framework for health products, which is how the Natural Health Products Regulations of Canada came to be.
Enter dicentra & Vitarock
Recognizing that the industry would need guidance to operate under this new NHP regulatory framework, Ms. Wojewnik established dicentra – leading NHP & FDA regulatory consultants that help companies develop and promote health products in the North American marketplace. She achieved this using her strategic approach to regulatory and scientific affairs, her long-standing Health Canada, NHP and FDA relationships and her inspirational leadership.
One year ago, Ms. Wojewnik founded Vitarock, an online marketplace featuring 1000s of products — from supplements, shampoos and creams to toothpaste and even pet treats — all of which have been vetted to adhere to its strict standards, as prescribed by Vitarock's 4 pillars: Pure, Green, Safe and Fair. "It's all about ethical consumerism," says Ms. Wojewnik.
Giving Back
Ms. Wojewnik understands that the world's abundance and resources aren't distributed fairly. That's why a percentage of every sale made on Vitarock.com is donated to Elephant Thoughts, a charity which works towards ensuring proper education for children all around the world and particularly in more than one quarter of First Nations and Inuit communities across Canada as well as in India, Nepal, Tanzania, and Nicaragua.
About Vitarock
Based in Toronto, Canada, Vitarock.com is an online marketplace featuring 1000s of ethically produced natural products that don't harm your health or pollute the environment, are made with ingredients that aren't tested on animals, and contain as many fair trade ingredients as possible. They all adhere to the company's pillars of Pure, Green, Safe and Fair.
About dicentra
dicentra provides sought-after regulatory and scientific guidance for health-related products sold in North American marketplaces. Since 2002 the company has been helping clients resolve complex scientific issues, develop safe and effective market-leading products, and facilitate timely regulatory Health Canada NHP, FDA and global approvals. dicentra has advised hundreds of major, medium and small-sized companies, financial institutions, governments, associations, law firms and individual investors on the regulatory and scientific aspects of product creation and maintenance. dicentra has been directly involved in the successful development of hundreds of leading products in North America and throughout the world.