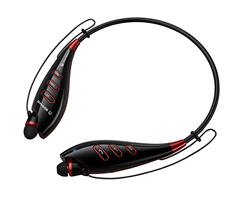 Rokit Boost Announces New Upgrades to SwageU Bluetooth Headphones
New York, NY (PRWEB) October 08, 2014
Building on growing demand for quality mobile accessories, Rokit Boost today announced a series of upgrades to its top-selling SWAGE U Bluetooth headphones. With the enhancements, the SWAGE U wireless headset offers a more seamless listening experience, easier operation, and superior comfort, all at the same affordable price as before.
Enhanced Listening Experience and Functionality
One of the biggest improvements is in the wireless headphones' speakers. Equipped with speaker units that support higher frequency and sensitivity, the SWAGE U headset enables users to more fully indulge in their favorite tunes. An equalizer function adds greater depth to when someone is listening to music or other content with its easy switching from bass, treble, or default modes. Just push on the SWAGE U headphones' Skip Forward button for 3 seconds, and the headphones switch between modes with ease.
Another upgrade builds upon one of the SWAGE U's core strengths: easy, hands-free operation. If a user's mobile phone supports hands-free dialing – such as Siri with the iPhone – pushing the Call button twice will initiate the hand-free dialing process.
Improved Comfort
The SWAGE U headphones are equipped now with a titanium alloy memory flex neck strap for easy wearing. Coupled with the headset's lightweight and trouble-free, wearable design, extended listening sessions with the SWAGE U have never been more comfortable.
The SWAGE U headphones also come with Bluetooth Version 4.0 technology for easier synchronization with Bluetooth compatible devices. It also features a long battery life for up to 8 hours of playback time, and a built-in microphone for effortless communication.
Product Availability
The new-and-improved SWAGE U wireless headphones can be purchased for the same price at Rokit Boost's online store. In line with its commitment to consumer satisfaction, Rokit Boost offers a 1-year warranty and a 30-day money back guarantee on the product.
For more information, please visit: http://www.rokitboost.com.
About Rokit Boost
Rokit Boost is a pioneer of affordable, high-quality mobile accessories. Whether they are innovations including iPhone charger cases, Bluetooth headphones, or wireless Bluetooth speakers/microphones, Rokit Boost's team seeks to add substantial enhancements to great existing products. The company also offers a refurbishment program of certified products for exceptional customer value, at reduced pricing.