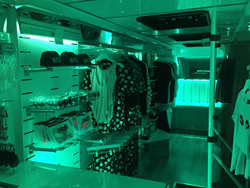 It has been a pleasure to have worked with InStyle LED, who have helped and advised us through our project from start to finish. They are an extremely professional company and the finished results were stunning. - Tayla Blue - Hot!MeSS
(PRWEB UK) 8 October 2014
Hot!MeSS, one of the fastest growing clothing company's of the year has taken things to the next level with their unique tour bus!
The luxury tour bus features a variety of their clothes for sale from different collections, current and new, hosted by the fantastic Hot!MeSS team; including the owner/Singer/songwriter Tayla Blue. Hot!MeSS is well renown for interacting with their customers and the tour bus will be visiting various city's across the UK due to the high demand further building their customer relationships.
Building the tour bus, Tayla Blue had used quality throughout and was looking for colour change lighting to bring the bus to life and to add a feature effect.
She called upon InStyle LED lighting and mentioned the reason for this was our high quality reputation in the industry for supplying commercial grade, reliable products.
What was used:
13m x LED Tape RGB 15w 24v commercial grade
1 x Transformer 200w 24v IP
1 x Wireless Touch Controller
The RGB LED Tape was installed all around the top of the tour bus ceiling, hidden in a pelmet so that you could see the desired light effect without seeing the actual LED Tape itself. The RGB LED Tape was also installed across the counter front lighting up a Hot!MeSS logo. All of the LED strips were pre cut and soldered to length by InStyle LED to the specifications given by the electrician. The LED strips also had the starter leads pre soldered on them to make a quick and easy install for the electrician by wiring all of the lengths parallel back to the one transformer and controller receiver. The LED Tape has 3M self adhesive tape on the back to simply peel and stick the LED Tape into place. The transformer and controller receiver were hidden in a cupboard and the wireless hand held remote can still control the lights as it does not need to be 'line of site' with the receiver to work.
The effect is stunning! The LED tape washes the walls and counter in a mixture of colours selected at the users choice. The pelmet has a continuous halo colour glow around the top and the light spills onto the clothes, ceiling and the floor to create a unique feature. The LED lighting brings the bus to life and gives the exact effect that Tayla was looking for. The LED lighting can even be seen from outside the bus, especially in early evenings when there is less ambient lighting. The user can use the handheld remote to wireless select any shade of any colour with the touch colour wheel and can also select colour scrolls, fully dim, whites and strobes, giving the user an option for any occasion.