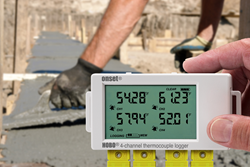 Bourne, MA (PRWEB) October 07, 2014
Onset (http://www.onsetcomp.com), a leading supplier of data loggers, today announced that it will be hosting a one-hour free webinar on Wednesday, October 22, 2014, at 2:00 p.m. EDT.
Hosted by Onset, and presented by Hoskin Scientific and Davroc & Associates, Ltd., this webinar discusses the importance of monitoring concrete curing temperatures and the potential consequences of not doing so.
Ideal for facility managers, developers, architects, and engineers, webinar participants will:

Understand why monitoring concrete curing temperatures is important
Learn how to monitor concrete temperatures and the monitoring technologies available
See a case study about the use of low-cost thermocouple data loggers in a large profile project, ensuring long-term strength and stability of concrete structures
Visit http://on.onsetcomp.com/concrete to register and learn more about this event.
ABOUT ONSET
Onset is a leading supplier of data loggers. The company's HOBO data logger and weather station products are used around the world in a broad range of applications, including building energy performance monitoring, water resources management, and ecological and agricultural research. Based on Cape Cod, Massachusetts, Onset has sold more than 2.5 million data loggers since the company's founding in 1981. Visit Onset on the web at http://www.onsetcomp.com/.
ABOUT HOSKIN SCIENTIFIC
Hoskin Scientific has been a supplier of testing and monitoring instrumentation to the Canadian market for over 50 years, through local offices in Vancouver, Burlington, and Montreal.
Visit http://www.hoskin.ca/ to learn more.
ABOUT DAVROC & ASSOCIATES, LTD.
Davroc & Associates, Ltd. is a Canadian-owned firm of consulting engineers providing a full range of services pertaining to the construction, maintenance, and rehabilitation of buildings and structures.
Visit http://davroc.com/ to learn more.
READER CONTACT
Onset Computer Corporation
1-800-564-4377 / 508-759-9500
http://www.onsetcomp.com
sales(at)onsetcomp(dot)com