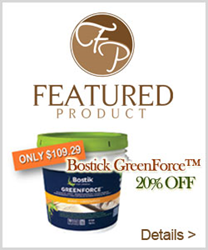 Green Force with AXIOS Tri-Linking Polymer Technology is a great addition to our line of flooring adhesives, as it is perfectly suited for installations over many different subfloors and can be used with both solid and engineered hardwood floors
Conshohocken, PA (PRWEB) October 28, 2014
Philadelphia Floor Store (PFS), the nation's leading hardwood flooring distributor, recently added Bostik's new Green Force Adhesive with AXIOS Tri-Linking Polymer Technology to their line of hardwood flooring glues and adhesives.
The product's AXIOS Tri-Linking Polymer Technology refers to its molecular structure which was designed with three branches, as compared to most other adhesives that have only two branches. This three-branch design offers more points of contact between the molecule and the surface it is adhering to allowing for a superior green grab which refers to how well glue adheres to wood upon contact.
According to Joe Glavin, PFS owner and national sales manager, "Green Force with AXIOS Tri-Linking Polymer Technology is a great addition to our line of flooring adhesives, as it is perfectly suited for installations over many different subfloors and can be used with both solid and engineered hardwood floors." Glavin continued, "There is also no need to test for moisture, as the product's entanglement of molecules is so tight that it does not allow moisture to permeate through concrete subfloors. Moisture tests can take up to four days, so this is a huge time saver for hardwood installers."
Bostick developed Green Force with anti-fracture technology that can bridge cracks up to 1/8″ which can occur in the substrate prior to or after installation. The product also offers superior elasticity, allowing the adhesive to move with the wood as it expands and contracts with changes in humidity and temperature. The adhesive bonds with concrete, but not with finishes, so clean up is quick and easy. For more information on this Bostick Green Force Adhesive with AXIOS Tri-Linking Polymer Technology visit the Philly Floor Website.
About PFS
PFS is a leading provider of unfinished and prefinished hardwood flooring and accessories including stains, finishes, abrasives, flooring tools, and sanding equipment. Family owned and operated, PFS has been serving hardwood flooring contractors for more than 20 years and provides the expertise needed to install and maintain hardwood floors. The company offers all the top name manufactures including, Aacer, Century, Norton, Lagler, 3M, Clarke, Bona, Basic, Primatech, Bostick, and more. The company's in-house resources include a top-ranked Machine Repair Center, Rental Center, In-house Chemist, and Gym Floor and Wood Floor Consultants. PFS educates customers via personalized service, online training materials, videos, and free events. Visit the PFS showroom in Conshohocken, PA or shop online at phillyfloor.com.
For product information and training videos, visit the company's YouTube channel or Blog. Visit Philly Floor on Facebook or follow the company on Twitter at @PhillyFloor. For media inquiries, contact Caran Baxter at caran(dot)baxter(at)phillyfloor(dot)com or call 610-940-5757.