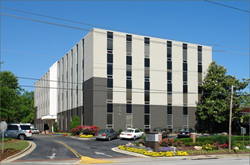 Atlanta, Georgia (PRWEB) October 07, 2014
Automotive marketing firm Force Marketing is proud to announce that it will be moving into a new location in Buckhead later this fall. The new office will be located on the top floor of a four-story building on Piedmont Road that Force Marketing CEO John Fitzpatrick purchased via his new real estate venture, Fitzpatrick Realty Group, LLC. The 11,000-square-foot space is in the process of being completely redesigned to fulfill the needs of the Force Marketing team as it continues to grow.
The agency selected Gensler, one of the world's most prominent architectural firms, to spearhead the look and functionality of the new office, customizing the space to reflect the Force Marketing brand.
"Working so closely with Force Marketing to design their new workspace has given us the opportunity to get to know their company culture and their needs, and to create a functional and compelling office that will serve them for years to come," said Erin Greer, Workplace Studio Director at Gensler. "We pride ourselves on creating workspaces that reflect the companies within them, and once we got to know the Force team, we were able to create a space that we hope embodies their unique company culture."
Southern Standard Construction is serving as the agency's construction management firm, with Collier International staying on as the property management company for the building as a whole.
Last year, Fitzpatrick founded his new venture, Fitzpatrick Realty Group, LLC, as both a business investment and an investment in the longevity of Force Marketing. Purchasing a building in which the agency could make a new home was a display of confidence on Fitzpatrick's part in the company's direction and continued growth.
"Some might consider the decision to purchase a building at this stage in our development as a company to be a risk, but we view it as a bold, but necessary, step toward our future," said Fitzpatrick. "I have a vision for Force Marketing's long-term expansion, and this new building allows us the space and flexibility to accomplish that."
Fitzpatrick Realty Group, LLC closed on the 42,160-square-foot Piedmont Court building on November 20, 2013. Force Marketing is projected to be moved in and fully operational in the new space by the end of 2014.
"The core of Force Marketing is truly our people. We have a team that works incredibly hard for our growing client base, and with this state-of-the-art new workspace, we can see that that hard work has paid off," said Fitzpatrick. "I greatly value the energetic and innovative company culture that we have developed over time, and I think our team deserves a space that inspires them and encourages collaboration each and every day. This new office will do just that."
Currently, the office space that comprises the remaining three floors of the building is leased out to 11 other small businesses. Fitzpatrick envisions that within 4-6 years, Force Marketing will occupy the entirety of the building.
The Piedmont Court building was the first purchase made by Fitzpatrick Realty Group, LLC, but will not be the last. The group closed on a 43,301-square-foot commercial building in North Atlanta on July 28, 2014.
To watch a video previewing the new Force Marketing office, as well as many other videos highlighting Force Marketing's service and automotive industry hot topics and trends, visit http://www.youtube.com/forcefeedtv.