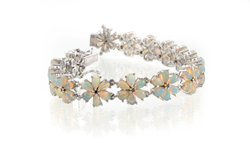 Now all jewelry lovers have a reliable resource they can turn to when shopping for jewelry
AUSTIN, Texas (PRWEB) October 17, 2014
The Liquidation Channel(LC) launched a new Education Center on their website that is going to be a key resource for all jewelry shoppers and collectors.
LC's Education Center is a place for customers to develop their understanding about their favorite jewelry pieces and gemstones. This resource is intended to let customers know exactly what they are buying.
"The Education Center is such a great tool for customers to have," LC Host Becky Booker says. "Now all jewelry lovers have a reliable resource they can turn to when shopping for jewelry."
The LC considers their new Education Center to be an essential part of their business. As a global leader in the direct sales of rare and exotic gemstones, diamonds, precious metals, luxury goods and a variety of lifestyle products and accessories, the LC's mission is to not only provide customers with the best quality products at the lowest price guaranteed, but also to help them make informed decisions in their purchase making process.
The Education Center provides a wealth of information, from gemstone attributes to tips and tricks on how to style each jewelry piece. Please see below for the full list of categories:

Gemstone Properties and Compositions
How Gemstones are Ranked
Jewelry Settings
Jewelry Care
Gemstone Enhancements & Treatments
How to Style Jewelry
Birthstones
A Guide to Metals
LC Brands
Jewelry & Gemstone Basics
"We are incredibly proud that we can bring this tool to our customers," LC President Gerald Tempton says. "We developed the Education Center because we believe that arming our customers with knowledge is a key element to fulfilling LC's promise of 'Exceptional Quality, Exquisite Designs, and Outstanding Value.'"
Access LC's Education Center by visiting http://www.liquidationchannel.com/pages/education-home.html.
For More Information Contact:
Carolina Sandoval
Marketing Specialist
512- 901-0621
carolina.sandoval(at)liquidationchannel(dot)com
About Liquidation Channel: Liquidation Channel (http://www.liquidationchannel.com) is an Omni-channel business comprised of a home shopping TV network, an ecommerce business, and an outside sales/wholesale segment. It is a global leader in direct sales of colored stones, diamonds, precious metals, and a variety of luxury goods and innovative products. LC specializes in delivering Exceptional Quality, Exquisite Designs, and Outstanding Value, while providing a low-price guarantee on each of its products. The channel's unique jewelry is available online at LiquidationChannel.com and on DirecTV Channel 75 and 226, Dish Network Channel 274, Verizon FIOS Channel 159, ROKU, AT&T U-Verse 399 and 1399 (HD), and local cable channels.