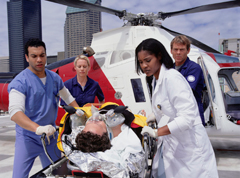 Glastonbury, CT (PRWEB) October 08, 2014
Whether traveling to a destination that is familiar, or to a place that someone has dreamed of visiting for years that is half way around the world, it is important to invest in a travel insurance policy that will protect against unexpected situations that can occur both before and during travels. Accidents and disruptions on trips do in fact happen, and travel insurance could save individuals hundreds or even thousands of dollars in medical expenses due to unexpected illness or injury while on a trip, lost or stolen baggage, or flight cancellation and delays. Sometimes it's hard to believe it could happen to you, but Travel Insured International, a leading travel insurance provider shares some real life travel disasters and how travel insurance saved the insured travelers that may make you think twice before skipping out on purchasing a policy for the next planned trip.
Case 1:
A traveler who was in his 80s was disembarked from a cruise ship in Panama with an abdominal aorta aneurysm which ruptured just after they were out of the canal. He was rushed via ambulance to the best medical clinic in Panama where he had emergency repair surgery. After the traveler was declared fit to fly, he was flown home with upgraded seating, oxygen support, and a nurse escort who was required to monitor his oxygen saturation. Travel Insured paid $49,950 toward the sum of the traveler's medical bills.
Case 2:
A traveler was on his dream vacation visiting South Africa when he suddenly starting experiencing problems with his vision and control of the right side of his body. He was rushed to receive medical care for a stroke and was then flown home to receive the best possible care available. Travel Insured paid $16,090 under the Medical Repatriation coverage due to the traveler's stroke.
Case 3:
A traveler had a cruise booked for her and her husband but had to cancel due to her husband's sickness. He did not have a policy of his own but was listed as her traveling companion on the trip. After the claim was filed, the couple was paid $35,765 towards the total amount of their paid cruise.
Case 4:
A couple booked a 10 day cruise touring the Caribbean Islands for their anniversary. They had to cancel their trip due to one of them coming down with pneumonia. He was treated by his primary physician for community acquired pneumonia, and then admitted to a medical center for further treatment. Travel Insured paid $15,900 towards their canceled vacation.
Case 5:
An insured traveler and his family of 4 were traveling domestically to visit extended family for the holidays. Due to a common carrier delay, they were delayed for a total of 14 hours. Travel Insured paid the amount of $800 with the trip delay benefit which covered the meals and hotel stay for each of the 4 family members.
*Benefits vary by plan and all claims need to be reviewed in order to be processed.
Visit http://www.travelinsured.com for more information on policies and benefits that are available.
About Travel Insured:
Travel Insured International is one of the largest privately held travel protection companies in the US, and preferred supplier to over 5,000 travel agents, travel consortiums and wholesalers in the US and abroad. As a former division of the Travelers up until 1994, and originator of travel insurance in the US, you can say that the "travel protection" blood lines run deep. Travel Insured International's customer centric claims operation has significant expertise in both domestic and international claims administration.
Travel Insured International
855 Winding Brook Drive
Glastonbury, CT