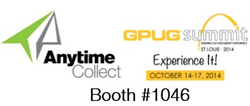 We look forward to meeting users and teaching them how the combination of accounts receivable best practices and powerful workflow automation can help them significantly increase the efficiency and effectiveness of their accounts receivable management
Chardon, Ohio (PRWEB) October 08, 2014
e2b teknologies, Premium ISV Partner members of the Microsoft Dynamics GP User Group, announced today their participation in the 2014 Microsoft Dynamics GP User Group (GPUG®) Summit in St. Louis, MO. GPUG Summit is the largest independent users conference dedicated exclusively to Microsoft Dynamics GP. The company will showcase Anytime Collect, accounts receivable management for Microsoft Dynamics ERP, in booth #1046 in the Expo Hall in America's Center Convention Complex from October 14-17, 2014.
"We look forward to exhibiting at GPUG Summit," said Adam Lynch, Anytime Collect Sales Manager at e2b teknologies. "As members of the GPUG community our goal is to help users get the most out of their ERP system, and as exhibitors we have an opportunity to do that face-to-face in a collaborative and educational environment. We look forward to meeting users and teaching them how the combination of accounts receivable best practices and powerful workflow automation can help them significantly increase the efficiency and effectiveness of their accounts receivable management process."
Anytime Collect accounts receivable management for Microsoft Dynamics ERP is an ISV solution that automates accounts receivable and collections management to help companies get paid faster. Unlike other accounts receivable management solutions for Microsoft Dynamics ERP, Anytime Collect supports multiple companies from a single account, allowing users to centralized accounts receivable collections activities in one system. Additional features allow users to more accurately forecast cash based on historical customer payment behavior, automate payment reminders, prioritize collection activities, archive customer email responses, manage disputes, manage credit risk, enable online customer payment via credit card or ACH, and much more.
"Partners like e2b teknologies add a unique and vital perspective to GPUG Summit. Not only do they offer innovative products and solutions, they have a wealth of real-life experiences and success stories to share from their work in helping Users effectively enhance and use Microsoft Dynamics GP," said Kim Peterson, GPUG Director. "We're excited to see e2b teknologies in St. Louis, and we look forward to their participation in and contributions to Summit 2014!"
Product information and e2b teknologies' representatives will be available at booth #1046 from October 14th-17th to answer any questions regarding Anytime Collect. Learn more here.
About Anytime Collect
Anytime Collect (anytimecollect.com), published by e2b teknologies, is a leading cloud-based accounts receivables management system integrated to leading ERP accounting systems including Intuit QuickBooks, Epicor, Sage ERP, Microsoft Dynamics, and others. Anytime Collect is designed specifically for businesses selling to other businesses on credit terms as opposed to other software designed for credit agencies or business to consumer credit and collections.
About GPUG
The Microsoft Dynamics GP User Group (GPUG) is a user-driven, independent organization that helps individuals and companies maximize the value they receive from Microsoft Dynamics GP. Members connect, learn, and share expertise through a number of educational events, webinars, training courses, virtual collaborative meetings, regional networking opportunities and a vibrant online community.