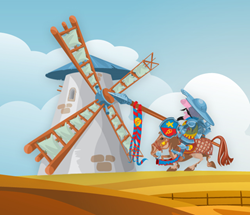 Atlanta, Georgia (PRWEB) October 10, 2014
Fiesta Nacional de Espana starts with free international calls to Spain! National Days are good opportunities to share pride, patriotic feelings, while watching spectacular parades and enjoying delicious dishes. But for Spanish people living outside their mother country, these forms of celebration are not at hand. However, there is a way to compensate the distance and still feel the national proud: call everyone back home and wish them "Happy National Day!" With AloEspana.com, calling Spain is 100% off on October 12th.
AloEspana.com's offer aims to prove that free international calls to Spain are no tilting at windmills. On October 12th, they are possible. Thus, Spanish customers living outside Spain may call any landline or mobile in Spain on October 12th without being charged.
The Voice Credit service AloEspagna.com offers is attractive due to the simple and easy to use options. The minutes can be used when calling from any phone or network:

From any landline, mobile or even payphone in the world, through local access numbers.
From any smartphone through the app called KeepCalling. The iOS and Android applications may be used to call without having to dial any access number, and even any phone number at all. Once logged in, customers can use their phone Contacts to call Spain.
From any computer with Internet connection through the Web Call application available in customers' online accounts.
Besides calling, AloEspana.com customers may offer another gift to their loved ones living back home in Spain: top up the mobile phones of family and friends, via the Mobile Recharge service. Movistar, Orange, Lebara, VOdafone, Lyca mobile and Llama Ya top ups to Spain are available with values starting from $7. All these options were created within the same purpose, of keeping a close relationship with family and friends back home, no matter the country the customers live in.
AloEspana.com offers also Virtual Numbers, monthly subscriptions through which customers pay a fee of $9.99/month and receive unlimited calls from another country. The people calling the Virtual Number only pay the rate of local calls.
Several security filters protect customers from possible frauds, making all transactions 100% safe. All major payment methods are accepted: Visa, MasterCard, American Express, Discover and PayPal.
About AloEspana.com
AloEspana.com is an interactive website designed by KeepCalling, a global telecommunications company registered in 2002 in USA. Presently, KeepCalling provides its services to hundreds of thousands of consumers and businesses, with a focus on customer satisfaction. In 2014, Inc. 5000 listed KeepCalling as the 18th fastest growing company in the telecommunications industry in USA.