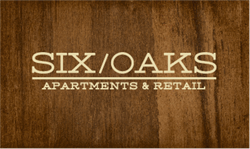 Our first residents have been very pleased and the response has been overwhelming. We are looking forward to Six Oaks being a key part of the community fabric in the City of Bothell and introducing Six Oaks at the grand opening on November 5th."
Bothell, WA (PRWEB) October 09, 2014
MainStreet Property Group LLC announces the grand opening of Six Oaks Apartments & Retail (http://www.liveatsixoaks.com), an amenity-rich project located in Downtown Bothell, neighboring the planned McMenamins restaurant and hotel and close to the newly revitalized Bothell Landing as well as a host of other recreational opportunities.
A grand-opening ceremony will take place on Wednesday, November 5th, from 5-9 pm with weekend activities planned through the weekend.
Six Oaks is located at 18333 Bothell Way NE and contains 203 apartment units and 7,000 square feet of retail space. The anchor retail tenants are The Boeing Employee Credit Union and Amaro Bistro, an exciting new restaurant. The apartment units feature large decks and patios fronting 4 large private interior courtyards and the canopy of 6 – 85 foot tall oak trees that were integrated into the design of the building. Additionally, one of the interior courtyards within Six Oaks contains a private regulation size Bocce Ball court for use by residents. Six Oaks also welcomes pets and has a private outside dog park.
"At Six Oaks, our design team focused on the details of our customer's living experience and so far the results have been fantastic with many customers moving in every day," said Kelly Price, President of MainStreet Property Group LLC. "Our first residents have been very pleased and the response has been overwhelming. We are looking forward to Six Oaks being a key part of the community fabric in the City of Bothell and introducing Six Oaks at the grand opening on November 5th," stated Price.
Residents at Six Oaks will enjoy unique amenities in this one-of-a-kind lifestyle community that houses four unique indoor/outdoor living spaces: The Oaks Commons – a resident lounge complete with outdoor dining courtyard, shuffleboard, 180" of television screens, and professional grade kitchen; The Play Bocce Courtyard - including a regulation size Bocce Ball court; The Fireside – outdoor fireplace with seating and terrace and The Serenity Zen courtyard with a water feature and intensive landscaping. In addition, the building will house a state-of-the-art 24-hour fitness facility, community Wi-Fi lounge, a preserved Oak Grove, a sustainable rain garden and secure key card access with parking.
Immediate community features include retail establishments at the base of the building including a BECU neighborhood branch location and Amaro Bistro, an all-new Italian Mediterranean restaurant. In addition, Six Oaks will provide access to the Burke Gilman - a regional trail system, walking distance to a nearby grocer and shopping center, public transportation, parks and just a block from downtown Main Street with shops and restaurants.
For more information regarding Six Oaks or for residential leasing opportunities, please contact (425) 892-2789 or visit http://www.liveatsixoaks.com. MainStreet Property Group LLC is dedicated to enhancing communities through the development of properties that enhance and energize the community. For more information, visit http://www.mainstreet-residential.com.