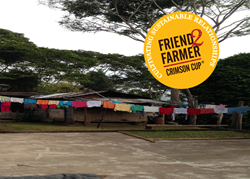 After light roasting, the beans produce a super clean cup, with notes of caramel, honey and cocoa. You'll also taste some nutty notes and mild citrus acidity in the finish. - Brandon Bir, Crimson Cup Coffee & Tea
Columbus, Ohio (PRWEB) October 10, 2014
Ohio coffee roaster Crimson Cup Coffee & Tea has added a third Peruvian offering to its Friend2Farmer line of sustainably sourced beans. The company's buyers discovered Finca Santa Rosa, a Rainforest Alliance Certified farm in Peru's Oxapampa Province, during a recent trip to Peru.
"We're excited to welcome Finca Santa Rosa to our Friend2Farmer program," said Greg Ubert, founder and president. "Purchases of this Rainforest Alliance coffee will positively impact the growing community and increase sustainability."
Peru Santa Rosa is the newest coffee in Crimson Cup's Friend2Farmer direct trade program, which ensures that farmers receive a fair share of proceeds from coffee sales and helps farmers invest in agricultural and community improvements.
To source the new beans, Coffee Trainer and Sourcing Specialist Brandon Bir and Coffee House Sales Leader Elmer Plasencia traveled high through the Andes Mountains to the small town of Villa Rica. There, they met third-generation grower Selena Contreras Obregon, owner of Finca Santa Rosa.
"We were impressed with the beauty of the farm and its passion for progress in every aspect of operations," Bir said. "This really showed when we cupped the coffee. After light roasting, the beans produce a super clean cup, with notes of caramel, honey and cocoa. You'll also taste some nutty notes and mild citrus acidity in the finish."
Established by Contreras' grandfather in 1927, the 104-acre farm grows catuai, caturra, bourbon, typica and geisha varietals under a canopy of indigenous trees at an elevation of 1,600 meters. Rigorous quality controls and meticulous attention to detail produce some of the cleanest coffee in the region.
The majority of coffee trees growing on Finca Santa Rosa are around 18 years old, though some of the more limited varietals are about seven years old. Expansion of varietals is in progress in the farm's nursery, which contains about 30,000 plants. With temperatures averaging between 62 and 80 degrees Fahrenheit, Finca Santa Rosa produces about 750 bags each year of hard beans that mature somewhat slowly for the area, making this coffee a limited selection.
About Crimson Cup Coffee & Tea
Since 1991, Crimson Cup Coffee & Tea has hand-roasted specialty coffee in Columbus, Ohio and taught independent business owners to succeed through its coffee shop franchise alternative program. Sustainably sourced Crimson Cup coffee is available through a network of more than 350 independent coffee houses, grocers, college and universities, restaurants and food service operations across 28 states, as well as the company's own Crimson Cup Coffee House in the Columbus suburb of Clintonville. For more information, visit crimsoncup.com.