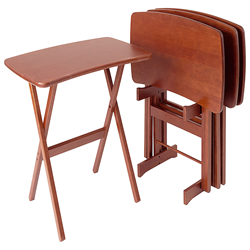 Manchester Wood's popular TV Tray Tables get a premium addition in Solid Cherry Hardwood
Granville, NY (PRWEB) October 10, 2014
Manchester Wood could easily be the fastest-growing, strictly American-made furniture eCommerce site today. With over 50 new products added this year, their first mail order catalog due out next month, and a Quality Guarantee and Free Shipping Always promise that find their quality and pricing tough to beat.
In the midst of the fall season, the American made furniture company is unveiling nearly 20 new products that expand the ever-growing popularity of their Solid Cherry furniture collection, Contemporary, Shaker, and the tried-and-true, TV tray table category.
Alongside is a 10% off store-wide sale running through this Columbus Day weekend and all the way until Sunday, October 19th.
Founded in 1976 in Manchester, Vermont, Manchester Wood has manufactured solid wood products for a number of leading American retailers, including L.L. Bean, Crate & Barrel, Pottery Barn, Plow and Hearth, Lands' End, Ikea, JC Penney, Sears & Roebuck, Orvis, Solutions, Eddie Bauer, Macy's, and Service Merchandise.
Since 2006, Manchester Wood has offered their own exclusive furniture lines online as well as through select retail locations, promoting their brand legacy of family tradition in quality and customer care.