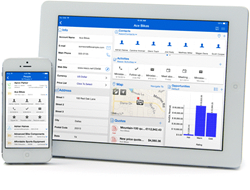 I am very excited to see how people react to the re-designed app.
Bratislava, Slovakia (PRWEB) October 10, 2014
Resco releases today the Autumn update of its mobile CRM solution for Dynamics CRM. This update includes a number of new capabilities as well as the new user interface of the application.
"This update is a huge milestone for Resco Mobile CRM. The list of new enhancements goes on and on – I hope our customers and partners will soon put them to good use. But mostly I am very excited to see how people react to the re-designed app." Radomir Vozar, CEO at Resco, commented on the new release.
The list of new release features include:

New user interface of the app
iOS 8 compatibility
Possibility to run reports via the app
vCard, meCard support – populate fields based on a QR code
Support for 3rd party apps
Integration with Symantec Mobile Device Management tool
Ability to create & edit personal events in Mobile CRM calendar
For the complete list, go to http://www.resco.net/news.aspx?file=2014-10-08
As usual, the new update comes free of charge to all existing customers and partners of Resco. There are no additional fees for the new version of the app as well.
As of this release, the iOS (iPhone, iPad) and Windows desktop applications support the new re-designed app. The Android and Windows RT versions will follow in the upcoming Winterˈ14 Update.
About Resco
Resco, founded in 1999, is one of the global leaders in developing cross-platform mobile software solutions and the creator of the market favorite Mobile CRM client for Dynamics CRM. The app – which gives users around-the-clock access to their CRM data from anywhere – comes with a full offline mode, interactive maps, support of custom entities & many other attributes that make it the product people love to use.
For more information visit: http://www.resco.net